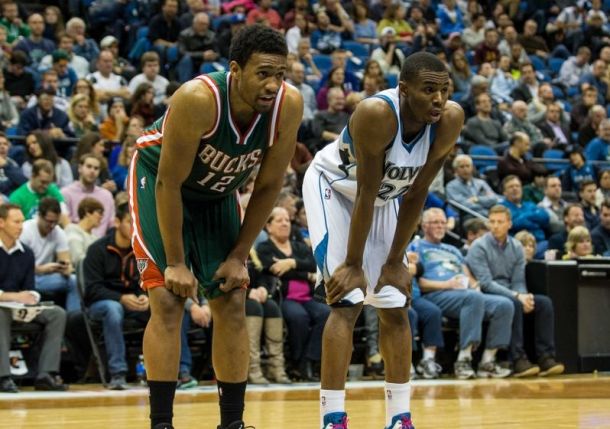 WHEN: 8 P.M. EST
WHERE: Kohl Center Madison, WI
Last Saturday, Bradley Beal scored 18 points and Marcin Gortat chipped in with 16 to lead the Washington Wizards to a 105-101 victory over the Milwaukee Bucks.
Milwaukee, which held a 99-98 lead late in the fourth, made just five of 17 shots and turned the ball over six times in the final quarter en route to a 7-0 run by Washington that gave the Wizards a 105-99 lead with 1:12 to play.
Chris Copeland led the way for the Bucks with 16 points in his preseason debut while John Henson had another strong outing, scoring 12 points and pulling down 13 rebounds in just 18 minutes off the bench.
The Bucks were without Jabari Parker (knee), Tyler Ennis (shoulder), Miles Plumlee (knee) and Damien Inglis (illness).
As for the opposition, Courtney Lee scored 18 points and the Memphis Grizzlies knocked off the Minnesota Timberwolves 90-68 on Sunday night to remain unbeaten at 5-0 in the preseason.
Tony Allen finished with 13 points and Marc Gasol and Mike Conley added 12 apiece for Memphis while Gorgui Dieng led the Wolves with 12 points. Zach Randolph was the only Memphis starter who didn't reach double figures, recording four points.
Minnesota point guard Ricky Rubio saw his first preseason action after missing the first four games recovering from a strained right quadriceps. Rubio played 23 minutes, but did not score.
Rubio has definitely something to prove as an ankle injury limited him to a career-low 22 games in 2014-2015, and as this season marks the start of the four-year, $55 million extension he signed last summer, there's pressure to perform. Between injuries, Rubio started all 82 games in 2013-2014, averaging nearly a double-double per 36 minutes (10.7 points and 9.6 assists).
Last season could be categorized as bittersweet for the Minnesota T'Wolves. Though they finished 16-66, they were able to garner the top draft pick in Karl-Anthony Towns and first-round pick Tyus Jones, a Minnesota native.
To help mentor the young nucleus of players and establish a winning culture, Minnesota went out and signed veteran point guard Andre Miller and small forward Tayshaun Prince in addition to signing power forward Kevin Garnett to a two-year extension this summer.
One glaring difference will be Sam Mitchell taking over for Flip Saunders as acting head coach due to Saunders' ongoing battle with Hodgkin's lymphoma. He has the tough task of trying to manage minutes between experienced players and up-and-comers in an effort to win games and provide valuable experience for the younger players. With this in mind, Mitchell has anointed second-year guard Zach LaVine, who averaged just over 10 points per game, to be the starter over longtime swingman Kevin Martin, who has started 491 of 659 regular season games and has averaged 18 points per game in his career.
Last year, Milwaukee swept the season series 2-0 over Minnesota. The first game was a showdown between number one draft pick Andrew Wiggins and number two draft pick Parker, though it wasn't exactly an instant classic either. Parker had 11 points and seven rebounds as Milwaukee went on to win 103-86 while Wiggins had a decent stat-line of 14 points, eight boards, four assists, and two blocks for the Wolves, who were held to 38 percent shooting.
In game two, Brandon Knight scored 14 points, O.J. Mayo and Henson each had 12, and the Bucks won 98-84, handing the Timberwolves their 14th straight loss. Wiggins had 20 points and seven rebounds for Minnesota. The Bucks took control of the game in the second quarter, shooting 82 percent.