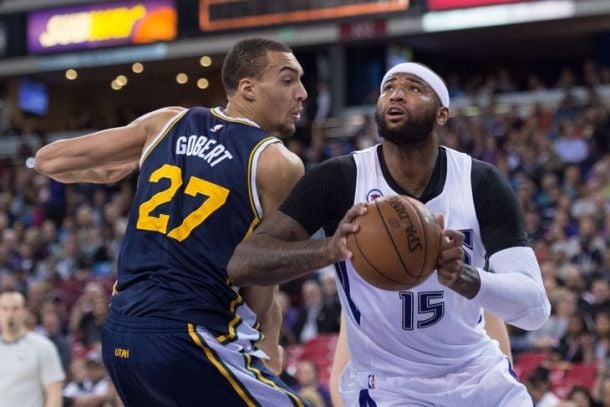 The Western Conference is simply ridiculous. In fact, there is a case to be made that over the last few years, it may be the strongest conference in NBA history. This season is no different. Most teams have made improvements, in some cases, big improvements. This will make the already wild West, unbearably tough.
Currently, it is pretty clear which teams are at the top of the Western Conference hierarchy. Six of last year's playoff teams, the Golden State Warriors, Houston Rockets, Los Angeles Clippers, Memphis Grizzlies, San Antonio Spurs and New Orleans Pelicans all look to return to the postseason. None of them lost significant pieces (except for the Spurs, but they did acquire LaMarcus Aldridge), so the six of them should be on their way to contending for the championship by the time April rolls around.
Add in the Oklahoma City Thunder, who by the looks of things will be healthy and that makes seven teams all but locked in for a postseason run. This leaves just one spot to be battled for by eight teams. So, which teams are contenders and who are the pretenders? Here is your team-by-team breakdown on how the remaining eight teams stack up for the final playoff seed.
Pretenders
Denver Nuggets
With the trade of Ty Lawson to the Rockets, it is clear that the Nuggets don't really have any intentions of having a crack at the playoffs. They are ready to enter the rebuilding phase and by season's end, could have a completely different team, with a lot of their core possibly being put on the trade block. Still, this team has a lot of interesting, young pieces, such as Jusuf Nurkic, Gary Harris and seventh overall pick, Emmanuel Mudiay. This will be a fun team to watch with a lot of potential for the future, but this will not be their year.
Minnesota Timberwolves
The Timberwolves have a lot of talent on their roster. However it is still raw and undeveloped and therefore they are still in the transitioning phase of a rebuilding project that, to this point, has been successful. This year for the young Wolves will serve as a building block for their young players who will continue to develop and gain experience. Their exciting nucleus consisting of Andrew Wiggins and Karl-Anthony Towns, among others, will especially benefit from this season. Unless rapid development is shown, the Timberwolves won't be contenders for the coveted eighth seed and will once again miss the playoffs for the 12th straight time.
Los Angeles Lakers
They might be the most talented team on this list of pretenders, but the Lakers aren't ready to push for the playoffs just yet. With a lot of new additions on their roster, this Lakers team will be significantly better than the last couple. In is the young D'Angelo Russell, Roy Hibbert, sixth man of the year Lou Williams, and of course getting Julius Randle back from injury helps this team immensely. However this team, much like the Timberwolves, is still in the transitioning phase of their rebuild. The young guns of Russell, Randle and Jordan Clarkson still need more development before they can make a playoff run. Barring a ridiculous season from the 37-year-old Kobe Bryant, this team is still one or two years away from making a return to the postseason.
Portland Trail Blazers
This Blazers team was in the playoffs, champions of the Northwest Division and ready to make some sort of challenge for the title. Now, they are without four of last year's starters, either due to trade or free agency. The Blazers have gone under a massive renovation with new players coming left, right and center. The players include Mason Plumlee, Noah Vonleh, Al-Farouq Aminu, Gerald Henderson and Moe Harless to add to superstar Damian Lillard. GM Neil Olshey is making a concerted effort at not having to tank, by bringing in quality, young, NBA proven talent. But all those players, in all probability, can't replace what LaMarcus Aldridge, Robin Lopez, Wesley Matthews and Nicolas Batum brought to their team. The coaching of Terry Stotts will still make this team competitive, but the sheer amount of player losses could be fatal to their chances this season and therefore, will be counting their ping pong balls rather than counting wins.
Contenders
Dallas Mavericks
Just like the Portland Trail Blazers, the Dallas Mavericks are coming off a good season in which they made the playoffs, but a hectic offseason. All of the headlines were taken up by possibly the weirdest free agent saga of all time. This of course being the signing, kidnapping and betrayal of DeAndre Jordan. This left Dallas in a tough situation, as they let Tyson Chandler go to make room for the Clipper and now face the prospect of starting either JaVale McGee or Zaza Pachulia at center, a downgrade to say the least. The Mavericks also lost key pieces in Monta Ellis, Al-Farouq Aminu and the train wreck that was Rajon Rondo.
Despite the losses, this Mavericks team did add both Deron Williams and Wesley Matthews. Williams is seemingly over the hill. After being a double-double machine for most of his career with the Utah Jazz, Williams has decayed in his time with the Brooklyn Nets. He slumped to new lows last year when he averaged 13 points and 6.6 assists on a woeful 38 percent shooting. However, under genius coach Rick Carlisle, D-Will has a chance at having a big time revival season by getting back to his former self. Matthews is recovering from a torn Achillies and won't be back before the start of the season, and it is completely unclear when he will be back. When healthy, Matthews is one of the best shooting guards in the league, as his two-way presence makes him an incredibly useful player to have on the court.
For the Mavericks to make a run at the eighth seed, their offense will probably have to rise to the heights that it did pre-Rondo trade. For this to happen, they may have to rely on a bounce back Deron Williams season, Matthews to return sooner rather than later, Chandler Parsons improvement and Dirk Nowitzki to not decline too much. All of these things can happen, and if their defense can at least be not terrible, they should be in the thick of the playoff race.
Phoenix Suns
For the third straight year, the Phoenix Suns are a fringe playoff team. For the last two seasons, they have been unable to break in, but certainly not tanking. The Suns are clearly in the NBA's no man's land. That can end this season by finally making a postseason appearance. Their hopes will be bolstered by some of the good work that they have done this offseason. The re-signing of Brandon Knight was necessary, since they gave up the Lakers' pick for him, the draft pick of Devin Booker brings a brilliant shooting touch to their backcourt rotation and the acquisition of Tyson Chandler gives a defensive backbone, a rebounding presence and a strong, athletic pick-and-roll threat which is perfect for the up-tempo Phoenix Suns.
To make the playoffs, the Suns will have to show that their backcourt of Knight and Eric Bledsoe can mesh. After the hectic trade deadline, which landed Knight in the desert, the pair failed to play together cohesively. If Jeff Hornacek can get the two to play off each other better, this team will be in a better place. The small forward position is also a key area for the Suns. After starting veteran P.J. Tucker for the majority of last season, the Suns will be hoping that they can get improved play from second year player, T.J. Warren. Warren offers more upside than Tucker and the development that he has shown in preseason thus far bodes well for his chances at starting.
With their offense in good shape, with the talent they have under Hornacek and their defense bound to improve on last year's (26th in points allowed per game) with Chandler as their backbone, the Suns will be in contention for the final spot all season long.
Sacramento Kings
DeMarcus Cousins' Sacramento Kings could go in about 50 different directions. The unpredictability of this squad is off the charts, from Cousins' temper, to Rajon Rondo's shooting percentages. But, of these four teams, they probably have the best team, in terms of pure talent.
Starting with the big man himself, Boogie Cousins is the best player on any of these team's rosters. His 24 points and 13 rebounds made him one of, if not the best center in the entire association. Cousins is a living nightmare for any opposing center, and now that he has been showing in preseason that he is willing to shoot three-pointers, that makes him even more scary. Add Cousins in with other offensive threats like Rudy Gay, Ben McLemore and Marco Belinelli and George Karl has a lot of toys to play with.
The x-factor for them is easily Rajon Rondo. The 2008 NBA champion struggled in Dallas and never really fit in with his role of playing off the ball. But now that he is back in his most suitable role of being the majority ball handler and primary offensive creator, he will be able to control the flow and pace of the game, with his vision, IQ and deadly passing accuracy. With the amount of offensive firepower the Kings have, Rondo is in the best position possible to be able to get back to his days with the Boston Celtics.
The biggest question last season with this team was on the defensive side of the court. They struggled to stop opponents on the wing and at the rim. While the defense on the perimeter hasn't improved all too much, drafting Willie Cauley-Stein gives them a great shot blocking big on the interior that will surely lift their win total and their shot at the postseason.
Utah Jazz
The Utah Jazz shocked the collective NBA world last season by winning 19 of their last 29 games after dealing Enes Kanter to Oklahoma City. Their defense, in terms of points allowed per game, became the best in the league, largely due to the emergence of the monster that is Rudy Gobert. The 'Stifle Tower' swatted 3.2 shots away per 36 minutes and had a block percentage (percentage of shots blocked) of seven percent. Gobert's emergence has vaulted the Jazz into a new stratosphere and easily one of the front runners for the eighth seed.
Utah will once again be a defense first team heading into 2015-16. With the combo of Gobert and Derrick Favors up front, the Jazz will be set against almost any frontcourt. With no need to worry about their defense, the main problems will arise when talking about their offense. Gordon Hayward has proven to be a good scorer, as he actually averaged nearly 20 points last year, but the rest of their roster is troublesome. Their troubles start at the point guard position where they were hoping on a Dante Exum breakout year in order to have an x-factor on the offensive side of the ball. His devastating injury means that Trey Burke will start once again, and although he is a competent point guard at this level, he won't give them much of a scoring threat or game breaker that they sorely need.
Getting Alec Burks back from an injury-riddled season in which he only played 27 games is big for them. If he can be a dependable scorer night to night, the Jazz should improve offensively.
Overall, the eighth seed is currently Utah's to lose. With the defensive dominance that they had after the Kanter trade last season, they will easily be the most consistent team and easiest to predict out of the four on this list. As long as they can find enough offense, they will be big contenders for that final playoff spot.