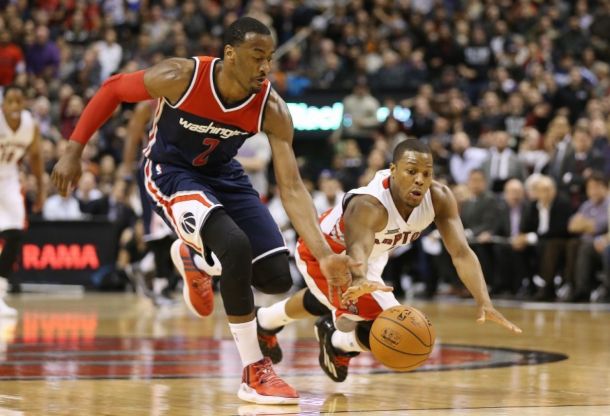 The Toronto Raptors look to closeout their preseason on a good note against postseason rival, the Washington Wizards. On Friday night, the team will play in front of their Canadian fans at the Bell Centre in Quebec.
The upcoming game shall pose a real test for the Raptors perimeter defense as they are going up against one of the best back courts in the league. Last season, John Wall and Bradley Beal combined to score a total of 32 points per game, while shooting the ball at a high percentage. All Star John Wall has had a breakout season posting 17.6 points on 44 percent field goal percentage and 10 assists per game. Bradley Beal also displayed a strong performance last year averaging 15.3 points per game while shooting 40 percent from the three-point line.
A few NBA analysts have raved that the Toronto Raptors have the second best starting back court in the league. Kyle Lowry is a bona fide All-Star point guard in the league as is known to be very crafty around the paint. DeMar DeRozan has also shown impressive stretches of being an All-Star caliber shooting guard in the East with his grand ability of drawing fouls and excellence with the mid-range jumper. In fact, last season, Lowry and DeRozan combined a total of 37.9 points per game while shooting at a moderate 41 percent from the field.
This contest will be very interesting to see as the two top back courts in the East will face off.
A key matchup to look forward to is Kyle Lowry against John Wall. As of late, the new slimmer version of Lowry has shown much promise in his demeanor on the court. Over the last several preseason games, Lowry has looked much faster coming off a pick and roll and driving towards the hoop. His 'quick trigger' three-point shots has also been effective. John Wall is also very effective at pushing his team's offensive pace with his quick agility and ability to create opportunities for his teammates.
Although the Raptors are coming into this game with a win against the Cleveland Cavaliers, they have struggled immensely on the offensive end. The Raptors have shot the ball at a mere 38 percent, as many players have struggled to sink their open shots. In particular, Lowry and DeRozan both had terrible performances as they combined to shoot 5-for-22 from the field. These two players must bounce back against the Wizards to provide the Raptors with an offensive spark.
DeMar DeRozan has yet to find his rhythm throughout the entire preseason. It is critical for him to find his groove offensively in Friday's game as the Raptors conclude preseason.