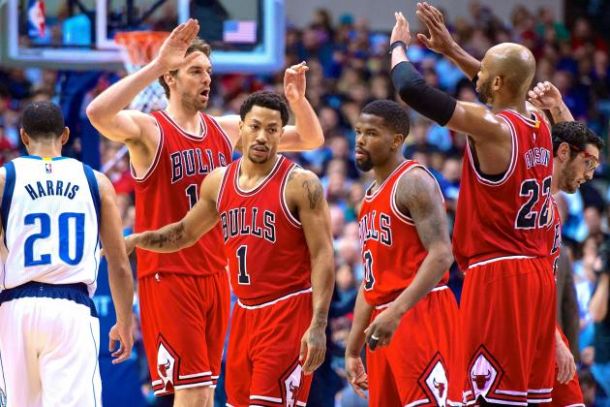 It has been a solid preseason for some of the role players for the Chicago Bulls. While the team has struggled in the postseason in terms of wins and losses, the likes of Nikola Mirotic, rookie Bobby Portis, and Doug McDermott have shined this preseason.
Mirotic, who played a key role coming off the bench for the Bulls last year, has shown an improved playmaking role in the preseason and he has shown a willingness to play more inside as well. Although he is known for this three-point shooting, Mirotic has shown an improved offensive arsenal and it is evident. He has played so well that head coach Fred Hoiberg started him against the Indiana Pacers and made Joakim Noah come off the bench.
This move caused speculation and sparked rumors that Noah will be coming off the bench to start the season. While Hoiberg has not come out and said that he won't start Noah on opening night, it is entirely possible to see Hoiberg start either Mirotic or Taj Gibson over Noah. Noah's play went downhill last year and injuries slowed him down as well. Even if he came off the bench, Noah would still be the emotional leader for the Bulls and is still one of the best defensive players on the team.
Portis has been one of the top rookies in the preseason, and although he didn't play against Indiana, he has fit in well in this Bulls team and has established his role on the team. He can rebound and is a high energy type of player. He is playing in a crowded frontcourt but his play in the preseason has to give Hoiberg some thought about playing him in the season.
McDermott, who struggled with injury and lack of playing time, will thrive in Hoiberg's new offense that he has installed in Chicago. Like Kyle Korver did a few years ago here, McDermott will be likely coming off of screens to find himself with room to shoot. If he can stay healthy, McDermott can be a good spark plug off the bench for Chicago.
But Chicago will also have to get production from Jimmy Butler in their last pre-season game. Butler has been struggling shooting the ball, and while the problem wasn't noticed in the first few games, it is now being talked about and could be a problem going forward for the Bulls if their best player is in a shooting slump to begin the season.
It's the final tune-up for the Chicago Bulls but still expect some getting used to when it comes to how Fred Hoiberg runs the team. The offense is new, the defense won't be the same, and Jimmy Butler won't get run into the ground. Rookies will get playing time and we will see high scoring games at the UC. Get ready for a new season, Chicago.