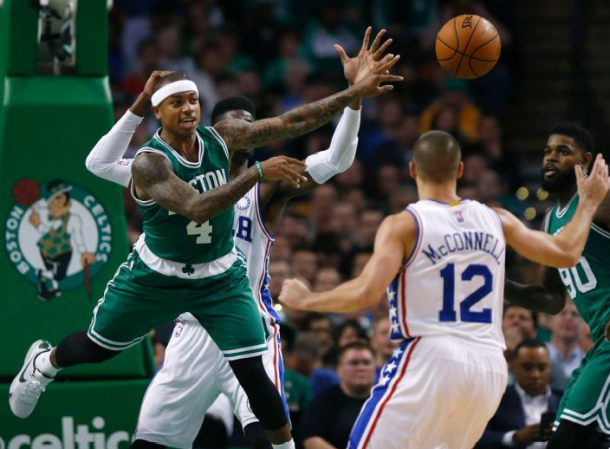 Isaiah Thomas led the Boston Celtics with 27 points and seven assists, as the Boston Celtics won their season opener. Jae Crowder, Jared Sullinger, Amir Johnson, and Marcus Smart also scored in double figures to help the Celtics beat the Philadelphia 76ers.
Jahlil Okafor, the third overall pick in last year's draft, did not disappoint in his debut. According to basketball-reference.com, he joined Anthony Davis, LeBron James, and Lamar Odom as the only players in their teens to score 20 or more points in their NBA debut. Okafor finished with 26 points, seven rebounds, two blocks, and one steal. He started quick with 10 points while making his first five shots in the first quarter. Boston then started throwing double teams at Okafor. He struggled a bit and it took him a while to adjust to the defense, but he was still able to make plays in the paint.
The other starting big for Philadelphia, Nerlens Noel, also played big, with 14 points, 12, rebounds, three steals, and two blocks. Isaiah Canaan added 18 points and seven rebounds.
After falling behind early 26-17, Boston coach Brad Stevens called a timeout. The Celtics then went on a 21-2 run in the second quarter to capture the lead and never looked back. A big reason the Celtics went on that run was due to the ball movement. As a team, they finished with 31 assists.
The Celtics made two buzzer beaters in this game, as Marcus Smart made a three-pointer to end the first half and Isaiah Thomas added another one to end the third quarter.
After averaging 33.5 percent from behind the arc last season, Marcus Smart spent most of the offseason working on his jump shot, and it showed. He looked more confident while shooting and ended up 3 of 6 from behind the arc.
The Celtics received contributions from their two big off-season acquisitions, David Lee and Amir Johnson. Lee ended up with eight points, five rebounds, and five assists, while Johnson added 15 points and seven rebounds.
The Boston defense was suffocating, clogging up the paint and forcing 24 turnovers, including 10 steals. The 76ers led the NBA in turnovers last year, and they didn't seem to fix that problem in this first game.
The depth of this Celtics team was very noticeable, as Stevens went 12 players deep with his rotation.
Kelly Olynyk sat out this game as he served his one-game suspension from his altercation with Kevin Love in last years' playoffs.
As the Celtics improve to 1-0, they will take on the Toronto Raptors next on Friday, October 30 at the TD Garden. The Sixers are also back in action on Friday for their home opener against the Utah Jazz.