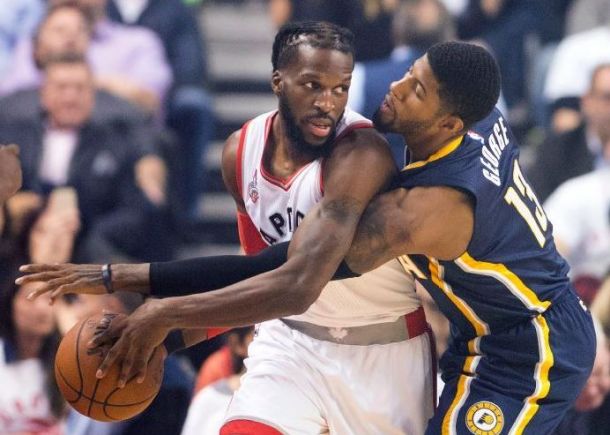 The Indiana Pacers were ready to showcase their new style of play in their first game of the season in Toronto. After losing a tie-breaker to miss the playoffs last season, the Pacers are hoping their new up-tempo style will be effective the first year they try it.
The Toronto Raptors hoped to start the season strong after a first-round sweep of the playoffs last season. The defending Atlantic Division champions are hoping to build on last year's success. The Pacers added key additions to their offense, while Toronto used the offseason to become better on the defensive end. Both of these teams showed potential in their debut, while also showing a little rustiness. After Indiana took control of the first half, Toronto heated up in the second half. Despite a double digit comeback by the Pacers in the fourth quarter, the Raptors held on to win, 106-99.
DeMar DeRozan scored 25 points, Kyle Lowry added 23, and Jonas Valanciunas tallied 21 points for the Raptors, who fell behind early from poor shooting, including going 7 for 15 at the free-throw line in the first half. At one point in the second quarter, after trailing the Pacers 41-25, the Raptors offense finally began to click. Despite having 12 turnovers at the half, they only had an eight-point deficit at the break.
DeMarre Carroll scored 14 points in his first game as a Toronto Raptor. Luis Scola didn't score against Indiana, his former team.
Terrence Ross began the fourth quarter with a four-point play, which sparked a big Toronto run. Bismack Biyombo had a three-point play directly after.
Toronto out-rebounded Indiana, 50-40. It is quite impressive that the Raptors shot 45 percent for the game, considering they only had 37 points at halftime.
Indiana was led by Paul George, who is coming off of a near-season long injury, with 17 points and 12 rebounds. The Pacers made a big comeback in the fourth quarter, with Monta Ellis scoring six straight points in the fourth. Ellis finished with nine points.
A jumper put Indiana up 95-93 with 2:18 left, but the Pacers couldn't hold on.
Ian Mahimni, who fouled out in the fourth quarter, finished with 10 points and five rebounds. George Hill scored 19 points, and C.J. Miles added 18 points. Rodney Stuckey was a big contributor, adding 17 points off the bench.
Pacers rookie Joe Young didn't score after playing for only two minutes, and Myles Turner never entered the game due to an ankle injury.
For a team going from defense first to offense first, the Pacers did well scoring 99 points, but only shot 37 percent for the game.
Up next for both teams:
Indiana hosts Memphis Thursday night.
Toronto is at Boston Friday night.