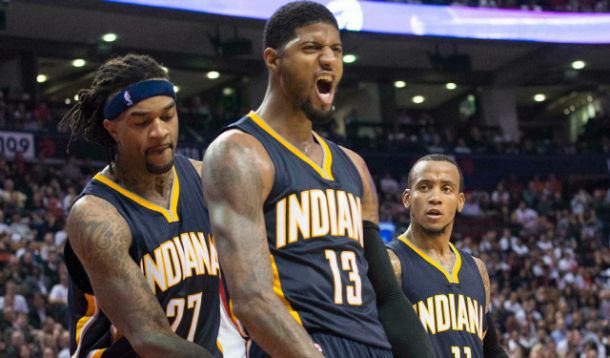 For the past 3 years, the Indiana Pacers were known as one of the most dominant defensive teams in the NBA. With guys like David West, Lance Stephenson, and Roy Hibbert, it was nearly impossible to score on the team's overpowering size. They've had two back to back NBA Eastern Conference Final appearances, only to be overmatched by the LeBron James led Miami Heat. But since then, Pacers President Larry Bird has been taking note of the last four NBA Champions. The 2012-2013 Miami Heat, 2014 San Antonio Spurs, and the reigning NBA champion Golden State Warriors all have taken a step away from the traditional NBA lineup. They all enforced a brand of small ball to space the floor for a more diverse offense and keep even great defensive teams like the Pacers guessing.
Now lets fast forward to this years Indiana Pacers. The Indiana Pacers find themselves still searching for their first win of the season employing their brand of small ball. With the star forward Paul George being used more frequently at the 4 position, he's struggled mightily in finding his offense. He's averaging 18PPG on a career low 28 percent from the field and an even worse 17 percent behind the three point line. That's as bad as it gets but he's not the only one struggling. Newly acquired guard Monta Ellis is also averaging only 9PPG on 26 percent shooting, his worst since his rookie season. That's just not going to get it done for this team. But their are many reasons to be optimistic for the team to be better than expected.
Through two games thus far the Pacers have played against the Toronto Raptors and the Memphis Grizzlies, two of the best teams in the NBA. Even though Paul George and Monta Ellis have struggled to get their offense in sync, The Pacers still have found a way to be more than competitive. In both of those games, the Pacers have held at least a 10 point lead. Guys like George Hill, whose currently leading the team in scoring, and C.J Miles have both taken a step offensively and are averaging their career best in most offensive categories. Another guy is Ian Mahinmi. He's has been absolutely balling. He's also averaging his career best 10PPG and also racking up 9RPG with about 2 blocks per game. He's greatly improved his jumpshot and he's even showing us he has playmaking skills out of the post, something you don't think of from him.
Also, last night we got a chance for the first time to see our first round pick Myles Turner in his very first action in a NBA game. To say he really exceeded expectations is an understatement. In 18 minutes of action, he put up 8 points, grabbed 4 rebounds, and showed up defensively, getting a block and 2 steals.
In the end, the Pacers are a very good and competitive basketball team. With both Monta and Paul playing terrible basketball, Pacers still are averaging over 100PPG and only loosing by single digits. You'd have to believe that they will only get better as the season goes on. Yes, the team still has a lot of kinks to work out, especially on the defensive end (currently ranked 21st in points allowed), but even the defense even at times has shown great potential with their active hands and lockdown capabilities. This Pacers team when it's all said and done, has potential to be one of the best teams in the Eastern Conference, but there is still work to be done. We just have to remember to be patient.