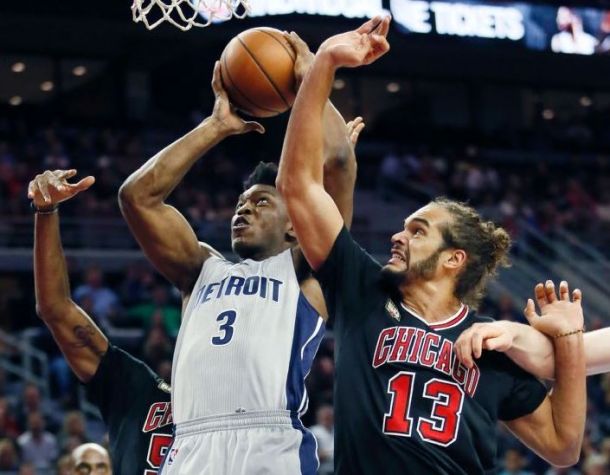 In what was a monster game for Andre Drummond and Marcus Morris, the Detroit Pistons are now 3-0 for the first time since the 2008-09 season.
It was a big game for Morris, as he had 26 points for Detroit and the former Phoenix Sun showed his versatility against the Chicago Bulls today. Morris showed his ability to post up and also showed his versatility to knock down jumpers, as he overcame a 6 of 19 shooting night to be a big help to Detroit on offense.
It was also another monster performance by Andre Drummond, as the big man continued his strong start to the season with a dominant performance against Chicago. Given Chicago's depth in the front line, this was a very good test for Drummond, and he passed with flying colors. The big man had 20 points and 20 rebounds for the Pistons and had some key baskets, including a tip in overtime, to lead Detroit to victory.
On the opposite end of the spectrum, it was a frustrating night for Derrick Rose. After playing well for the first two games, the point guard was held scoreless for the first three quarters of the game. He also made a questionable choice at the end of the game when he chose to shoot a step-back jumper, which he airballed off the backboard, instead of driving into the lane. Given that Rose's quickness had returned and his poor jump shooting, the choice to take a step back during a tie game in the fourth quarter was mysterious.
But the Bulls did get some great offensive help from Jimmy Butler and Nikola Mirotic. Butler had 23 points, which led the Bulls in scoring, and showed the offensive flash that won him the Most Improved Player Award last season. Nikola Mirotic also continued his hot streak to start the season, as he racked up 22 points for Chicago. Ever since Fred Hoiberg started Mirotic at the beginning of the season for Chicago, he has rewarded his new coaches faith by having big offensive games in all three games. Mirotic is proving to be a big asset in this offense. He is proving to be more than a three point shooter as he works to make his offensive game more complete.
Overtime was all Detroit, as the Pistons opened out of the gates on a 7-0 run and quickly found themselves with a 90-83 lead with a couple of minutes left. Chicago stormed back but a Drummond tip in with less than two minutes to go sealed the victory for Detroit.
Chicago will look to rebound in the United Center as they face the Orlando Magic this Sunday. Detroit will be playing this Tuesday as they face the Indiana Pacers.