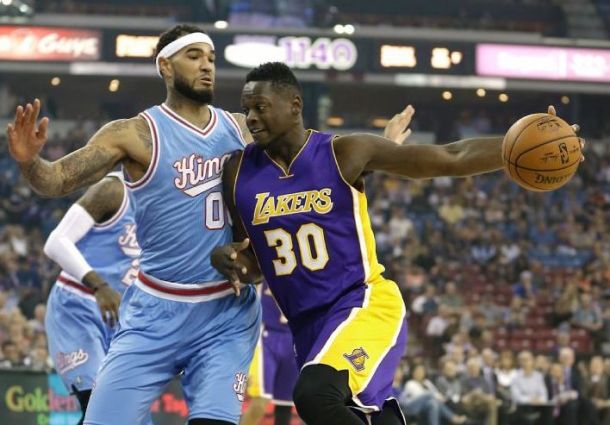 After a heartbreaking loss to the Minnesota Timberwolves at home, the Los Angeles Lakers were expected to come out with some sense of urgency on the road against the Sacramento Kings. Instead, they did the complete opposite and came out entirely flat right out the gates.
After the Lakers owned an early 4-2 lead, their only lead of the game, the Kings went on a 14-0 run and never looked back, demoralizing Los Angeles around the basket.
Before he could even break a sweat, newly acquired Rajon Rondo already had 10 points and five assists. He was effortlessly breaking down the Lakers defense, and either scoring for himself or tossing the ball to his bigs for easy finishes at the rim.
Saying that the Lakers defense was horrible is being modest. They were beyond horrible defensively, allowing the Kings to shoot 71 percent in the first period and giving up 40 points. By halftime, the Kings had 74 on the board and a 24-point lead.
Byron Scott went 10 deep with his rotations again, but playing against a bigger Sacramento team, the second unit's frontcourt lineup of Nick Young, Ryan Kelly, and Brandon Bass proved to be too small since the Kings were taking advantage in the paint with their size.
To demonstrate how dominant Sacramento's size was, they had 80 points in the paint, out-rebounded the Lakers 56-37, snatched 16 offensive rebounds, and put in 25 second chance points.
"We just sucked," Coach Scott said of his team's effort. "I've never seen 80 points in the paint. I really haven't."
The Kings ended up scoring 132 points and cruising to an 18-point victory. Their biggest lead was 31, and they led all but 10 seconds of the game. The Lakers actually made a couple of spurts late in the second half, coming as close as 15 points, but their lousy defense put them in a deep hole that was tough to climb out of.
After allowing Minnesota's point guard Ricky Rubio to go off for 28 points and 14 assists, the Lakers allowed Rondo to put up 21 points and eight assists on 9 of 13 shooting from the field to lead his team. DeMarcus Cousins followed suit with 21 points, 11 rebounds, and two blocks.
Sacramento's sixth overall pick, Willie Cauley-Stein, earned the first start of his career and was highly remarkable, scoring 17 points, snagging nine boards, and swatting three shots.
Rudy Gay quietly put up 19 points, six rebounds, three assists, and two steals on 8 of 12 shooting. He swiftly found his comfort zone with this team when he came over from the Toronto Raptors and has been vastly efficient and consistent. And now with Rondo running the offense, Gay just fades into the darkness and soundlessly puts in work.
The defense was bad, but the offense was solid for the Lakers, as they put up 114 points of their own and shot over 46 percent from the field. Jordan Clarkson and Nick Young paved the way for the Lakers with 22 points and 17 points, respectively. Each was carrying most of the scoring load for their respective units.
Kobe Bryant, who came into the game with a sore throat, finished with 13 points, four rebounds, and three assists, shooting a subpar 5 of 12 from the floor and 1 of 8 from downtown. Meanwhile, Julius Randle had just three points and two rebounds.
Roy Hibbert was the only Laker who was doing a sufficient job of protecting the paint, as he added five blocks to go along with 10 points. Rookie D'Angelo Russell registered a decent game, scoring 13 points on 5 of 10 shooting but only dishing out two assists.
The Kings have another clash against the Los Angeles Clippers in their upcoming game, this time at the STAPLES Center. The Lakers will head back home for a Sunday night showdown against the Dallas Mavericks, hoping to improve their horrendous defense.