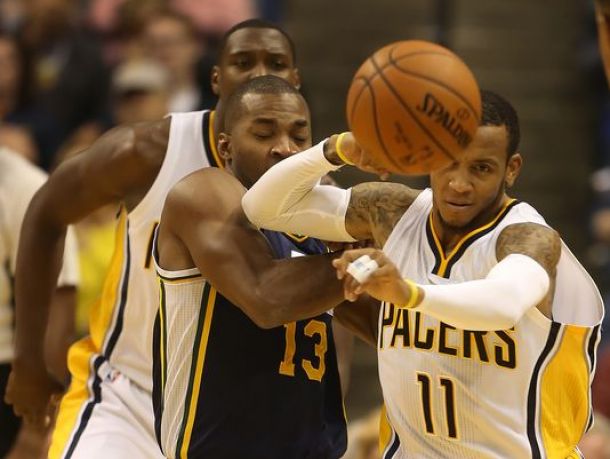 The Indiana Pacers and Utah Jazz faced off Saturday night in a Halloween matchup that was short and sweet if you're a Pacers fan. Indiana came out as they have in all three of their regular season games, moving the ball and scoring effectively inside and out. And as usual in the two games prior to tonight, it didn't last very long.
The Pacers outscored the Jazz 29-23 in the first quarter, coming out strong on the offensive end. The home team was flying around on defense, doubling down on the post and causing several turnovers early on in the game. The Pacers won the second quarter as well, 20-19 and took a 49-42 lead into halftime at Bankers Life Fieldhouse.
What was the story to the start of the second half? The same story that has been written in games one and two so far. The offense gets stagnant, less ball movement and more one-on-one basketball. No more helping down on the post on the defensive end. The Jazz stared the second half out on an 8-0 run to take a 50-49 lead which caused Coach Frank Vogel to call a timeout. It was all downhill from there.
The Jazz exploded for a 28-12 advantage in the third quarter and never looked back from there. The Jazz went on to win the game, 97-76, in a spooky game for Pacers fans.
The Jazz was led by Derrick Favors with 18 points on the night. Second year center Rudy Gobert pulled in 17 rebounds on the night for the Jazz to lead all players. George Hill led the Pacers in scoring and rebounds with 17 and six respectively.
Maybe a question needs to be asked. Is the small-ball idea from President of Basketball Operations Larry Bird a good one? So far, it's led to a 0-3 start on the season. Understandably, new faces plus a new system equals a learning curve. No question the defensive end needs work, but so does the offensive consistency.
The Pacers play well for 18 minutes and it seems as the game is lost from there. Paul George has seemed to be non-existent in important parts of the three games so far this season. The All-Star forward needs to continue to focus on the leadership qualities and at some point, may need to take over a game if needed.
The Pacers now move to 0-3 on the season and are off until Tuesday, November 3rd, when they travel to Detroit to take on the 3-0 Pistons. The Utah Jazz are now 2-1 on the young season and don't play again until Wednesday, November 4th, when they host the 1-1 Portland Trail Blazers at EnergySolutions Arena.