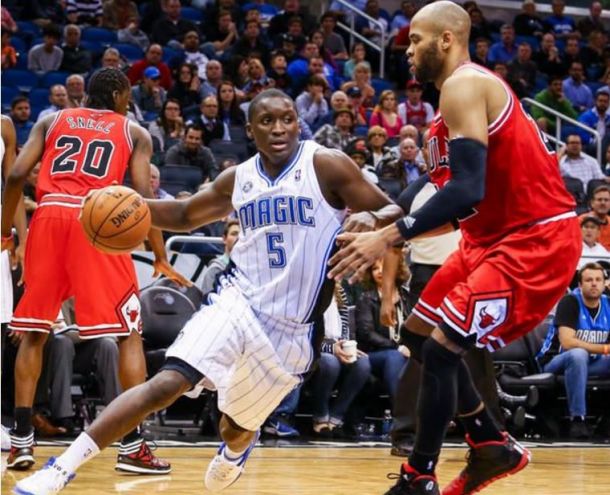 After a 98-94 loss to the Detroit Pistons, the Chicago Bulls try to turn things around against the Orlando Magic, a matchup featured at the United Center. After a few days of rest, the 2-1 bulls look to cut down on turnovers as it has been problematic as of late. They face an Orlando team that does not have a deep roster, as they are 0-2 so far on the season.
After the bad performance against the Pistons, Bulls guard Jimmy Butler stated, "We came out lackadaisical....Can't happen. Not in this league. Every team, especially on the road, you are going to get their best effort. They came out and whipped our tail, basically, on both ends of the floor. The energy was low. When the starters start out that way, the bench tried their best to get us back in there and the energy just wasn't there. We were careless with the ball, making lazy passes, trying to catch the ball with one hand, trying to thread the needle."
Butler notes the sentiment of all the players and coach Fred Hoiberg as they believed to heavily under perform. Look for the Bulls to come out firing against the weak handed Magic. Bulls leader Joakim Noah, will bring the energy and try to get the guys hyped for the game. With 20 turnovers, the Bulls will bring more focus and structure to their offensive spacing on the floor. Derrick Rose will look to exploit the heart of the Magic defense by driving to the lane and getting easy shots. The Bulls shot selection will have to improve.
With the days off to rest and regroup, the Bulls went through practice gearing up for the game on Sunday. Coach Fred Hoiberg was unable to attend practice as he took excused leave to attend the funeral of the late Flip Saunders. With Hoiberg out, associate head coach Jim Boylen took the reins for the weekend practice. He preached the same things that Hoiberg wanted from the team and helped to guide the team through drills. The key thing for the Bulls in this matchup is to outwork the Magic on all ends. With the great depth that the Bulls possess, the bench players will give the starters the proper rest they need. Forward Taj Gibson will be on the front of this cause.
Coming off a high scoring 139-136 loss to the Oklahoma City Thunder, the Scott Skiles led Magic look to get in the Bulls way from going up to a 3-1 record. Magic guard Victor Oladipo looks to stretch the floor and get the Magic going on the offensive end. With 22.5 points per game so far this season, leading scorer Tobias Harris poses a problem for the offensive-minded Bulls.
Tune in to this exciting matchup, with a 6:00 PM CT tip-off.