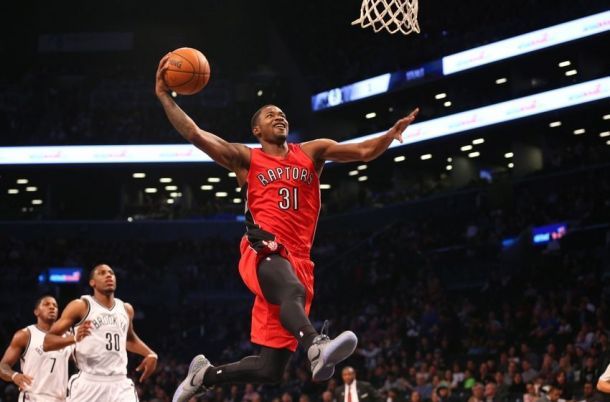 Toronto Raptors swingman Terrence Ross has agreed to a three-year, approximately $33 million contract extension with the team, according to Adrian Wojnarowski of Yahoo Sports.
The Raptors and Ross had until 12 am ET to reach an agreement and barely beat the deadline.
Ross will now avoid becoming a restricted free agent next summer, as the extension will begin during the 2016-2017 season.
Ross, 24, hasn't developed into the player the Raptors hoped for, but he has steadily become a crucial role player off the bench. Last season, he averaged 9.8 points and 2.8 rebounds on 41 percent shooting, his numbers slightly declining from the year prior.
So far, Ross has had a solid start to his season, averaging 12.3 points and 2.7 rebounds on 52 percent shooting in just three games. However, three games is such a small sample size, and the main thing will be more consistency out of the 6-foot-7 high-flying forward.
Ross becomes the seventh player in his draft class to earn a contract extension this season, with Anthony Davis, Damian Lillard, Jeremy Lamb, Michael Kidd-Gilchrist, John Henson, and Ross' teammate Jonas Valanciunas, who inked a four-year, $64 million extension this past summer, being the others.
"Happy to say I will be a in Toronto 4 more years!" Ross announced on his Twitter. "I want to thank God, my family, management, and the Raptors! #WeTheNorth."
Aside from Ross, the Raptors will be looking to sign DeMar DeRozan to an extension. DeRozan has a player option for next season and has been seeking an extension since this past off-season, but the two sides have yet to engage in serious discussions.
Nonetheless, so far, the Raptors have DeMarre Carroll, Valanciunas, and Ross secured until 2019, while Kyle Lowry has a one-plus-one remaining after this season. The Raptors have strived to build a defensive-minded team and are poised to bounce back after last season's playoff meltdown, as they are slowly looking to lock up their future at the same time.