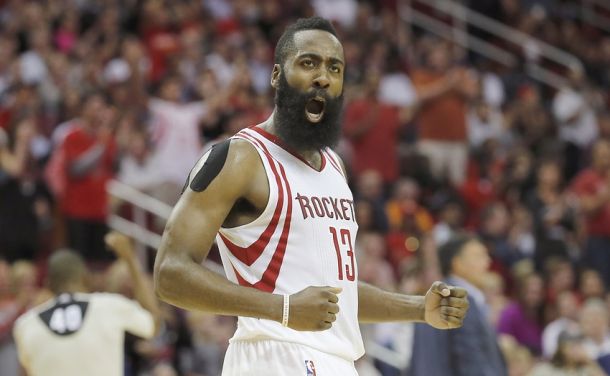 HOUSTON, Tx. -- James Harden found his stroke Tuesday night, scoring 37 points on 12-26 shooting from the field as the Houston Rockets (1-3) downed the Oklahoma City Thunder (3-1) behind a vicious second-half comeback.
The Rockets, who trailed by 11 at the half, outscored the Thunder by 14 in the third quarter to take hold of the game. Harden and company poured it on in the final period to tack two on to the winning margin and claim win number one on the year, a classic 110-105 Western Conference barnburner.
Oklahoma City, who suffered its first defeat of the 2015-16 campaign, gave away the rock 24 times on the night to Houston's 12; Russell Westbrook, DJ Augustin, and Kevin Durant contributed seven, six, and five turnovers apiece, respectively for the Thunder.
Westbrook finished with 25 points, paired along with 11 assists, eight rebounds, and a pair of steals. Durant added 29 on the night, hitting 4-9 from beyond the arc. Serge Ibaka added a double-double of his own with 12 points and 14 rebounds along with four blocks, while Augustin came off the bench to drop 12 and five boards.
While OKC led the majority of the statistical categories on the night, Houston found solace in the assists column, led by Ty Lawson's 11 dimes dropped, 14 points, and four steals.
Houston found its groove three minutes into the third quarter, going on a 25-8 run in the period's final nine minutes to take an 82-79 advantage.
After multiple additional lead changes in the fourth, KD tied the game up at 99 with a pair of free throws, and from there the Rockets were able to close it out, as Trevor Ariza and Harden both sunk clutch three-pointers.
Up six with 1:45 left, Houston held the Thunder to a Westbrook three that was overshadowed by two very clutch made shots from the charity stripe by center Dwight Howard, one of the association's worst free-throw shooters.
Howard ended the day with 16 points and eight boards for the Rockets. Corey Brewer and Marcus Thornton each scored 12 as well on Kevin McHale's side.
Billy Donovan's crew never seemed able to align the stars quite in their favor in the second half, surrendering drive-and-kicks over and over and allowing Houston to get out on the break with their 18 total steals.
An epic test of depth from their well-known foes who are led by a former Sixth Man of the Year who played for the Thunder, Oklahoma City failed to exhibit the depth they'd hoped for and expected prior to the game and season with the new additions they made this summer.
The Thunder faces the Toronto Raptors on this upcoming Wednesday, while Harden and Houston take on the Orlando Magic the same evening.