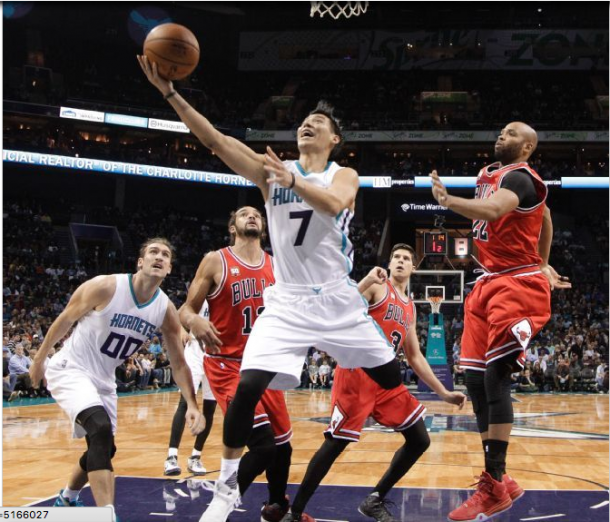 Everyone knew the Chicago Bulls would struggle on defense when Tom Thibodeau left. It was a given. But many did not expect Chicago to struggle like they did in Charlotte.
It started off on the wrong foot defensively for the Bulls in the first quarter. Charlotte got off to a blistering start and had a fantastic first quarter offensively, taking advantage of the Bulls mistakes. Charlotte shot 72 percent from the field in the first quarter and scored 37 points when it ended. The Bulls looked slow on defense and didn't show the energy they did in the first four games of the season.
The only concern for the Hornets was Cody Zeller catching an elbow from Joakim Noah and had to go back to the locker room for stitches.
Things got worse for the Bulls in the second quarter when the hot shooting continued for the Hornets as the Bulls offense went absolutely no where. The first and second units struggled as Chicago tried to get back in the game with a lot of three-point shooting.
But the defensive struggles and the poor offensive execution led to another 30-point quarter by Charlotte as they took a 69-47 lead into halftime over Chicago.
Down by 22 heading into the third quarter, some fight was expected from the Bulls but a poor turnover from Tony Snell to start the quarter and a poor defensive effort from Pau Gasol showed that it was just one of those nights for Chicago where they wouldn't be coming back.
Many expected Fred Hoiberg to insert Joakim Noah for Gasol early in the third quarter due to the lack of defensive effort by Gasol and the fact that Charlotte was just having its way in the paint. But Hoiberg chose to take out Nikola Mirotic instead of Gasol, which was a surprising move but Hoiberg is still trying to find the right lineup for Chicago and that's a positive.
It was another good third quarter for the Hornets as they maintained a 62.5 percent shooting percentage from three and went to the fourth quarter up 22. Nicholas Batum had a spectacular game for Charlotte, as he had 18 points and eight rebounds for Charlotte.
It was a pretty quiet fourth quarter, as the bench players played for majority of the quarter while the lead stretched to 30 for the Hornets. Bulls rookie Bobby Portis came in to make his NBA debut and knocked down his first jumper. Doug McDermott also recorded a career-high in points in 17 for the Bulls.
Overall it was a poor defensive effort from the Bulls and a great shooting night for the Hornets. It was a poor night for the Bulls.