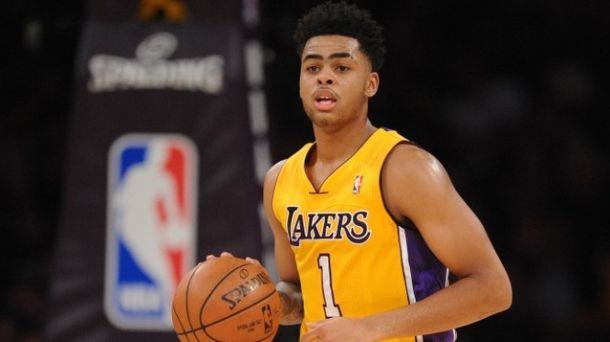 It's been an unsatisfactory start to the season for rookie D'Angelo Russell, to say the least. The 19-year-old out of Ohio State, taken second overall during the 2015 draft, has not met expectations and has many wondering if the Lakers made the correct choice by passing up on Jahlil Okafor.
But perhaps Russell's inadequate play isn't entirely his fault. Perhaps there is a simple fix. Perhaps he shouldn't be in the starting lineup anymore.
It's not that Russell is not talented – it's that Russell does not seem to fit in with the first unit.
Sometimes in basketball, it's better to have nicer fit than more talent, and although Russell is talented enough to crack a starting role on a team like the Lakers, he simply does not fit in with that unit.
What the Lakers could do instead is replace Russell with Metta World Peace in the starting lineup. No, that is not a typo. World Peace has yet to play a minute this season, but inserting him into the starting lineup may not be a terrible idea.
First, it will allow Kobe Bryant to shift to the shooting guard slot, his natural position, while Jordan Clarkson plays point guard, the position he played most of last season. It will also give the Lakers first unit a defensive-minded player who could slightly help the team's early season woes on that side of the court. And most importantly, World Peace is a player who would not command the ball very much on the offensive end.
The problem with Russell being in the starting lineup has been the Lakers boasting too many players in that unit who could ball handle and play make. First you have Clarkson who is a combo guard that likes to set up the offense occasionally. Then you have Bryant who has promised to play off the ball more often this season but is still going to ask for his touches. Then you have the versatility of Julius Randle who is drawing similarities to that of Lamar Odom, where he is, every so often, taking it coast-to-coast after grabbing a defensive rebound.
Taking all that into consideration, Russell becomes the odd man out. There is clearly no room for him to progress in that unit because the young point guard needs the ball in his hands as well, to be able to create shots for his teammates and himself.
Essentially, there are too many players who require the ball in the first unit, and out of all those players, the rookie is obviously going to be the one left out.
Now with World Peace being a part of the starting unit, there could perhaps be more balance within the two lineups. And besides, World Peace does not need to play heavy minutes. He could merely play 15 to 18 minutes per game, as long as he is providing defensive tenacity and energy. Maybe the Lakers can ultimately develop Anthony Brown into the 3-and-D player they are hoping for, and he could overtake the starting small forward role instead, but let's not get too ahead of ourselves.
For now, it has to be the veteran World Peace who operates that role, and the Lakers can still close out games with the lineup of Clarkson, Lou Williams, Bryant, Randle, and Roy Hibbert like they have been doing recently.
With Russell coming off the bench it will mean that Marcelo Huertas, who has been quite flashy so far, would become a third string point guard which should be fine. Instead of Huertas running the show for the second unit, it would be Russell.
Alongside Williams, Nick Young, Brandon Bass, and Tarik Black or Ryan Kelly, Russell could finally excel and play with more freedom. Both Young and Williams are fairly comfortable playing off the ball, while Bass and Kelly can run pick-and-pop plays with Russell, and Black can run pick and rolls.
This way, Russell will be in his comfort zone and will run the point like he should be. The only player in the second unit who may demand the ball sometimes is Williams, but that may only happen if the team is in need of immediate scoring.
Playing a bench role may not please Russell at first, but the youngster will need to understand that it's a process – he has to live with it.
When Kobe Bryant came into the league, he did not earn a full-time starting role until he was 20 years of age, his third season in the NBA – but look how good his career turned out.
Therefore, Russell will have to accept a bench role because it will certainly pay off in the long run and possibly help the team at its current state.
It's basic science, opposites attract, and when you look at the Lakers second unit, all the players are the complete opposite of D'Angelo Russell.