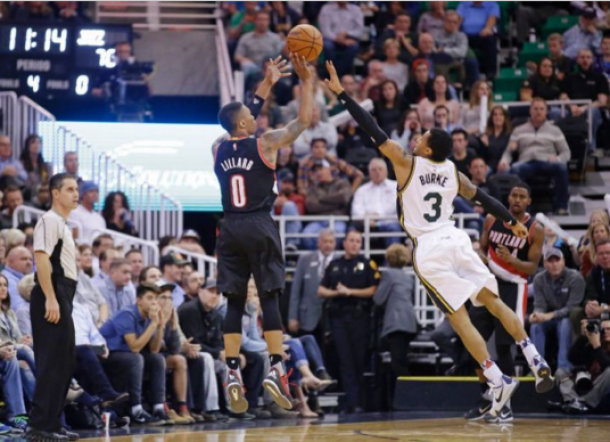 Coming off a major 17-point comeback Monday night against the Minnesota Timberwolves, the Portland Trail Blazers travelled to Utah to play the Jazz in their home opener. The Jazz are ranked number one in the league defensively thus far, but couldn't contain the Blazer backcourt as Damian Lillard and C.J. McCollum exploded for a combined 62 points. They assisted in Portland's 108-92 win, bringing their record for the season to 3-2.
Early on in the game, the Blazers ran their offense through Mason Plumlee rather than Meyers Leonard. Leonard hasn't started the season as expected, and came out with the same lack of confidence offensively tonight. He air balled his first three-point attempt and after sinking an elbow jumper shortly after, left the game with an ankle injury and didn't return. Ed Davis and Noah Vonleh picked up the extra minutes, but neither made a solid impression for Coach Stotts. Vonleh was virtually invisible on the floor, and Davis subbed often as Portland hustled up and down the floor in transition.
Portland built an early lead after trailing by five in the first few minutes, and maintained it for the remainder of the game. They shot over 50 percent for all 48 minutes, but kept Utah in it with numerous unforced turnovers and missed free throws. They lost the ball 19 times versus the Jazz's nine, eight of which came in the second half. Either team possessed the opportunity to take advantage of the high volume of foul calls, but both shot under 65 percent from the line. Portland made 15 of 32 free throws, most of the misses coming from Plumlee, a career 49 percent shooter from the stripe.
Following a clutch last second jumper by McCollum, Portland took an eight-point lead going into half.
Utah came out in the second half with a renewed sense of urgency. They tallied two quick fouls on Lillard and forced him to play softer defense. The lead slimmed down to single digits, but they couldn't cut it any closer. The combination of Plumlee and Davis for the first time this season down low kept Rudy Gobert out of the paint and completely irrelevant on the offensive end. He only grabbed nine rebounds and scored eight points on six shots.
A majority of the damage done by the Jazz came from their bench guards. Trey Burke scored 17 points in 26 minutes and Alec Burks 21 in 32 minutes. They maneuvered around screens brilliantly and took advantage of the heavy dose of foul calls being made in the paint. Also, Gordon Hayward totaled a season-high 19 points on poor shooting from the field, but didn't contribute defensively, allowing his matchup Al-Farouq Aminu to put up 13 points and grab eight rebounds.
After a quarter and a half of tennis between Utah and Portland, the Jazz broke out with a 10-2 run during the fourth quarter. Lillard shut down their hopes with a dagger three from way downtown, and an increase in Utah turnovers helped Portland preserve their lead and improve to above .500 on the season.
While Lillard and McCollum together carried the team offensively, player of the night goes to Maurice Harkless. In 29 minutes off the bench, he scored 15 points on 63 percent shooting (one miss coming from a wide open dunk) and snagged 10 rebounds for his first double-double of the season. With the early injury to Meyers Leonard and Vonleh's inability to make an impact, Harkless saw the crunch time fourth quarter minutes. He played smart basketball, and unlike most Blazers, passed up several open three attempts for easier baskets at the rim. Expect him to see more time in the near future, especially if Leonard is to miss some time due to his ankle injury.