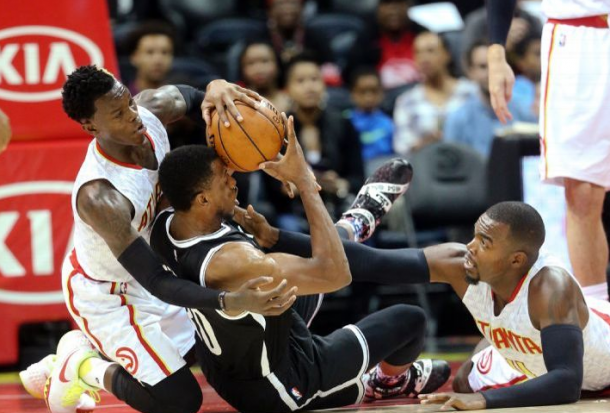 The Brooklyn Nets dropped their fifth straight game to start the season, as they lost to the Atlanta Hawks, 101-87.
The first half was won by Brooklyn who was up by two at halftime. Getting outscored 26-18 in the second period, Atlanta responded by winning the next frame, 31-27. Brook Lopez did most of his damage during the third as 14 of his points came in that quarter.
Dennis Schroder, who got the start for Kyle Korver, who sat out due to rest, had only two points in the first half going 1 of 7 from the floor but countered with 13 points in the third period to end the night with a total of 20 points. Up until the final eight minutes of regulation, it was a two-point game in favor of the Hawks.
Similar to the conclusion of their previous matchup against the Milwaukee Bucks, Brooklyn's opponent finished the game on a 17-5 run. Jeff Teague had his way offensively in the final 12 minutes of the game, scoring 12 points, giving him a total of 20 for the night.
Thaddeus Young finished with a double-double of his own, achieving 14 points and 10 rebounds. Joe Johnson, who has yet to score 15 or more points this season, had a dreadful shooting night. He concluded with five points on 1 of 10 shooting.
Jarrett Jack, who has been dealing with a left hamstring injury, played 27 minutes and recorded six points on 3 of 10 shooting. Bojan Bogdanovic led the bench with 12 points. Al Horford contributed with 21 points and eight boards. Paul Millsap ended with 12 points, nine boards, and five steals.
As a team, the Nets concluded the night shooting 43 percent while the Hawks shot it at 49 percent. Brooklyn out-rebounded their opponents, 43-34, as Young and Lopez combined for 21. Atlanta tallied up 15 steals and 10 blocks. Prior to the game, Brooklyn held an average of 15 turnovers per contest, and they committed a total of 19. There was total of 14 lead changes.
Brooklyn has now lost six straight regular season games against Atlanta. Their last victory came on January 16th, 2014, during a trip to London.
Brooklyn is off to their worst start since the 2009-2010 season where they began 0-18. They are also one of four teams remaining who have yet to earn a victory this season. The other two are the Philadelphia 76ers, Los Angeles Lakers, and the New Orleans Pelicans. The schedule won't get any easier for them as nine of the next 12 games are on the road. For Atlanta, their success continues to shine as they've won five straight games and moved up to the second spot in the Eastern Conference.
The following game for Brooklyn will be against the Los Angeles Lakers on Friday, November 6th, at 7:30 P.M. EST at the Barclays Center.