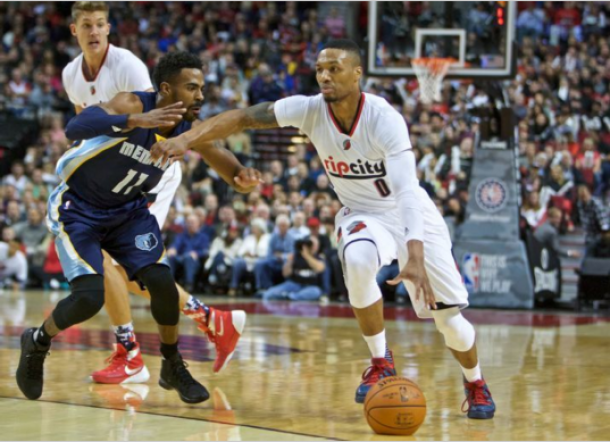 The Memphis Grizzlies started off the season discouragingly bad, losing their first two games by a combined 80 points. The Golden State Warriors handed them a 50-point loss on Monday, the worst in franchise history, and the Cleveland Cavaliers won by a margin of 30 in their season opener.
The Portland Trail Blazers, on the other hand, have exceeded expectations for their flipped roster, even with Meyers Leonard playing poorly and constantly battling minor injuries. The team has strung together three wins in five games, with both of the two losses coming from the Phoenix Suns.
Heading into the game against Memphis, Portland looked to rebound after their devastating playoff embarrassment at the hands of Marc Gasol and the Grizzlies last season. The night started off with poor shooting for both teams, but Portland stole an early lead thanks to strong offensive rebounding by Mason Plumlee. For the first time in forever, the Blazers scored their first 12 points in the paint. This didn't last long, however, as C.J. McCollum and Damian Lillard made it rain for the next 36 minutes, draining a combined 11 three pointers and 47 points.
Despite this, Memphis stayed in the game through halftime and most of the third quarter. Portland was unable to defend pick and rolls ran by Gasol and Mike Conley. Courtney Lee and Zach Randolph saw numerous open opportunities after the Blazers defense focused more on Gasol down low, and at the half, Memphis trailed, 50-46.
Behind solid defense on Gasol and Leonard finally turning the corner offensively, the Blazers jumped out to an eight-point lead with a few minutes remaining in the third. The Grizzlies were beginning to cool off, just in time for Lillard to catch fire. He hit several back-to-back threes from way downtown in a Stephen Curry like fashion to help Portland grow a big double digit lead. They scored 10 points in the final 90 seconds of the third and coasted through the final 12 minutes with a solid 20-point lead.
The key to Portland's eventual 19-point victory was their first assist to turnover ratio worth boasting about. Together, the team totaled 29 assists, in the meantime only giving the ball up eight times. Leonard and Plumlee stayed strong down low against the tough Memphis big men, allowing McCollum and Lillard to take over from beyond the arc. Portland improves to 4-2 and are showing major strides in terms of both offense and defense after their poor performances against Phoenix twice.