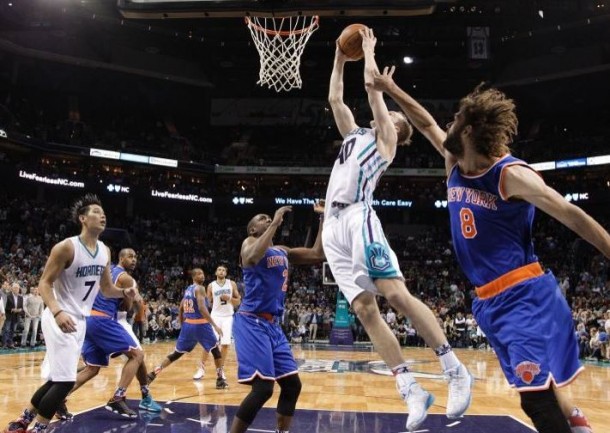 In a game where New York lead by as many as 10 and Charlotte's largest lead was just three, the Knicks came up short in the final 12 minutes, getting outscored, 26-14.
With .06 remaining in the game and the Hornets up by two after a layup from Cody Zeller, the Knicks inbounded the ball to a wide open Kristaps Porzingis. He hit a three-pointer but the refs ruled out his shot after a video review as his release came after time expired. Prior to that shot attempt, Porzingis was 5 of 24 for the season from downtown.
For the fourth time this season, New York held their opponents to under 20 points during the first frame. Porzingis had a perfect shooting quarter with eight points. However, he picked up two personal fouls and was forced to sit early. He finished the night with 10 points, 15 boards, and two blocks.
Out of 11 three-point attempts during the first 24 minutes of the game, New York did not hit a single one, but that changed at the beginning of the second half. Carmelo Anthony erupted for 15 points in the frame, including the first three-point shot of the night for his team. He concluded the game with 29 points and six boards after a 1 of 5 shooting start.
In the final stretch of the contest, Kemba Walker and Al Jefferson were not in the game as Head coach Steve Clifford decided to stick with his reserves. Both key players had dreadful offensive performances as they went for a total of 4 of 21 from the floor. Walker finished with nine points and Jefferson had four points. The only starter who scored double digits was Nicolas Batum, who scored a season-high of 24 points.
Charlotte's bench once again showcased an offensive display, outscoring the Knicks bench, 45-29. The former Knick Jeremy Lin led the reserves with 17 points and three steals. Jeremy Lamb contributed with 14 points and Zeller scored 12. Langston Galloway and Lance Thomas had a quiet night after putting up strong offensive performances last game against the Toronto Raptors. Galloway ended with eight points while Thomas went scoreless.
Arron Afflalo made his season debut and got the start after being out the first eight games with a hamstring injury. He played a total of 28 minutes and notched 12 points. New York made 48 percent of their shots and out-rebounded their opponents, 52-33. They struggled to protect the ball, however, as they committed a total of 16 turnovers which lead to 11 steals for Charlotte. The Knicks got to the free-throw line only seven times while their opponents attempted 28.
New York will now host a three-game homestand that will start with the Cleveland Cavaliers, who are currently on a seven-game winning streak and first place in the Eastern Conference. The game will be on Friday, November 13, at 7:30 P.M EST.