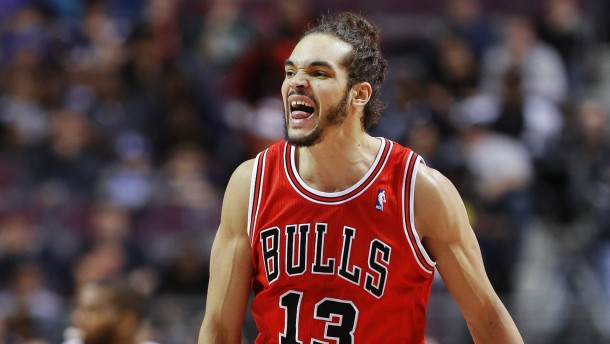 It was a bizarre moment on Monday when Fred Hoiberg announced that Joakim Noah was starting against the Philadelphia 76ers but then Nikola Mirotic came out with the starters for the opening tip and Noah was on the bench. The veteran center didn't even get a minute on the court as he went back to the locker room with the trainer. He was later declared out of the game due to knee soreness.
Although soreness isn't the most injury, the fact that it was the surgical repaired knee where Noah experienced it causes some concern. But thankfully for the Bulls, Noah has experienced any setbacks since and it slated to play against the Charlotte Hornets.
Mirotic will likely be the starter against Charlotte due to the small lineup and the fact that Mirotic had a good game against the 76ers and the fact that the Bulls are looking for more offense this year.
But Hoiberg has shown that he is willing to tweak the lineup in a search to find the perfect one. He's already replaced Tony Snell for Doug McDermott and so far it has looked to be a good move by the former Iowa State coach.
Starting Noah would give the Bulls more defensive stability, something they have been lacking this year. Known for being one of the best defenses in the NBA, the Bulls have suffered a regression on the defensive side of the ball. One that was expected as Fred Hoiberg is not the defensive coach Tom Thibodeau was.
Noah would bring back some of the tenacity and grit that the Bulls don't have on the defensive end right now. Other than Jimmy Butler, nobody on the Bulls starting lineup is an exceptional defender. Sacrificing some offense in Mirotic for defense in Noah may be an option Hoiberg is considering.