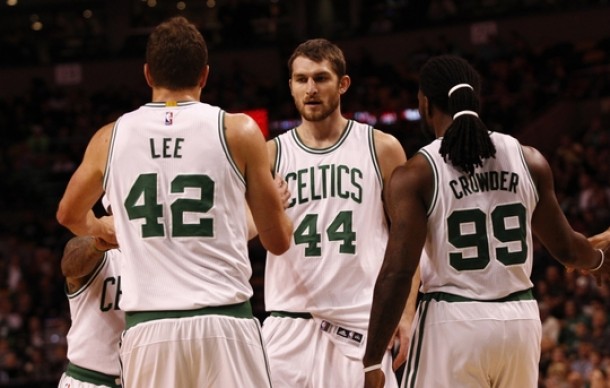 After nearly squandering a 15-point third quarter advantage to the Atlanta Hawks (8-3), the Boston Celtics (4-4) realized their fate. Either assert their will on the test at hand, or witness themselves drop another home contest to a playoff-bound Eastern Conference opponent.
Fortunately for the Boston faithful, the Celtics chose the former, mounting a 10-0 run over the final three minutes of the contest to garner an encouraging 106-93 victory over the dynamic Hawks.
Boston point guard Isaiah Thomas lead the charge with 23 points, 10 assists, and five rebounds on 8-of-18 shooting, including a 4-of-9 mark from beyond the three-point line. Center Jared Sullinger garnered his third consecutive double-double, posting 10 points and 10 rebounds, while power forward Amir Johnson broke out for 19 points and eight boards.
Small forward Jae Crowder chipped in 13 points, including a plethora of key buckets down the stretch, and eight rebounds in a game-high 38 minutes of action for the Celtics. Off of the bench, center Kelly Olynyk was superb, contributing 15 points and two blocks on 6-of-13 shooting.
For the Hawks, four starters reached double figures in scoring, with power forward Paul Millsap recording 14 points and eight rebounds, center Al Horford posting 13 points, eight assists, and six rebounds, small forward Kent Bazemore contributing 12 points, and shooting guard Kyle Korver hitting three of his five three-point attempts for 11 points. Guards Dennis Schroder and Thabo Sefolosha piloted Atlanta's reserve attack, chipping in 10 points apiece.
After coming out of the halftime break knotted in a 45-45 tie with the Hawks, the Celtics captured the momentum in the third quarter, amounting 35 points, their highest mark in a quarter thus far in the season.
Following a Korver three which gave Atlanta a 60-59 lead with 5:20 remaining in the quarter, Boston began to surge, a 21-9 run to end the quarter commencing with an Olynyk three and ending with a Johnson tip-in off of a miss by shooting guard Evan Turner at the conclusion of the third which gave the Celtics an 80-69 lead.
After layups from Olynyk and small forward Jonas Jerebko pushed the Boston advantage to 86-71 early in the fourth quarter, the Hawks fought back, however, mounting a 12-0 run paced by seven points from forward Mike Muscala to cut the deficit to 86-83.
Two three-pointers by Thomas upped the Celtics lead to 92-85 with 5:45 remaining in the contest, however, Atlanta refused to fade away, narrowing the gap to 96-93 with three minutes left following a Bazemore bucket.
The momentum appeared to be on the Hawks side at that point, but nevertheless, Boston began to take over. Layups from Johnson and Turner (which came off of a beautiful assist from Thomas) increased the lead to 100-83 with 2:11 remaining.
Then, Thomas found Crowder open for two consecutive buckets, a three-pointer and a pull-up jumper, to up the Celtics advantage to 106-93 with 1:05 left in the contest, all but sealing the Hawks fate as they prepared to leave the TD Garden with sour expressions.