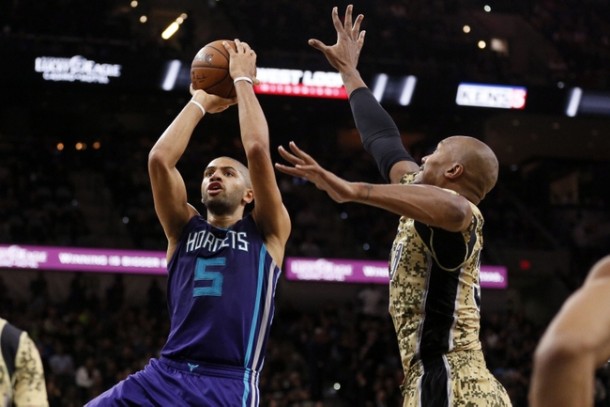 For the second time this season, the Portland Trail Blazers are facing one of their four lost starters. They fell to Lamarcus Aldridge and the San Antonio Spurs Wednesday night with Aldridge greeted by a mix of cheers and boos, and face red hot Nicolas Batum and the Charlotte Hornets in Charlotte at 5 p.m ET.
Nicolas Batum was traded draft night to the Hornets by Portland in exchange for veteran Gerald Henderson and almost rookie Noah Vonleh. At this point in the season, Henderson has played just two games, averaging 8.5 points and 1.5 rebounds. Vonleh's seen court time in all ten games, but still fails to make an impact, scoring 1.8 points and grabbing 2.3 rebounds a night in 12 minutes. With the injury of Meyers Leonard, however, Vonleh could see more floor time, although Coach Terry Stotts has turned towards Chris Kaman to fill the gap down low.
Charlotte began their season roughly, contrary to Portland, who were at one point 4-2. The luck has turned for each team and the Hornets have won four of the last six while the Blazers are currently enduring a four game skid.
The key to Portland's success is limiting turnovers. Friday night in a brutal loss to a Zach Randolph buzzer beater, CJ McCollum turned the ball over eight of the team's 22 times, the second time in the past four where they've tallied over 20 turnovers. Damian Lillard on the matter, "That's something that we've got to work on and get better at. Time and time again the more we turn the ball over the less chance we have to win games."
Another issue surrounding Friday night's loss is Lillard's finger. He's generally avoided injury in the past, playing in every game of his career so far. Friday, however, he played with a torn thumbnail, the injury sustained Wednesday during the Spurs game. It clearly affected Lillard although he wouldn't admit it post game, as he shot 5-15 from the field and 0-5 from beyond the arc. Even without Lillard shooting his best, the Blazers still staged a 14 point comeback against a respectable Memphis Grizzlie team and almost secured the victory.
Charlotte's defense, ranked 12th in the league, doesn't force turnovers as effectively as the recent teams Portland has faced. They also allow 46% shooting from the field by opposition, giving the Blazers ample room to heat up and form a lead early on. Without Meyers Leonard though, the court may not be spaced as usual. If Ed Davis is his replacement at the four position, he and Mason Plumlee will compete for room in the paint as neither are proficient outside scorers. Leonard's injury also eliminates the pick and pop worked so effectively by he and Lillard. Vonleh hasn't proven to be a successful outside shooter, and Davis and Plumlee are primarily pick and roll big men.
For Portland's defense, their main concern is Nicolas Batum and Kemba Walker. Coach Stotts and several Blazer players know Batum's tendencies and therefore have an advantage guarding him, but the same goes for Batum on the other end of the court in stopping the Blazers' offensive system.
In the prior two games, Batum's totaled 52 points on 57% shooting from the field and 7-11 from beyond the arc. He's overshadowed his relatively slow start to the season, and combined with Kemba Walker, is leading Charlotte to an almost .500 record. Hornets Coach Steve Clifford is high on the Frenchman's capabilities, praising, "He can pass. He can shoot. He can rebound. A competitor, and he has a really high IQ".
With Al Jefferson off to his worst season opening in the past decade, Batum and Walker are relied on more than past seasons. Plus, the emergence of Marvin Williams and Jeremy Lamb are helping the Hornet offense dig their way out of the bottom half of the league. For Portland to win, they must focus on Walker and Batum, forcing normally role players Lamb and Williams step up and progress the team offensively.