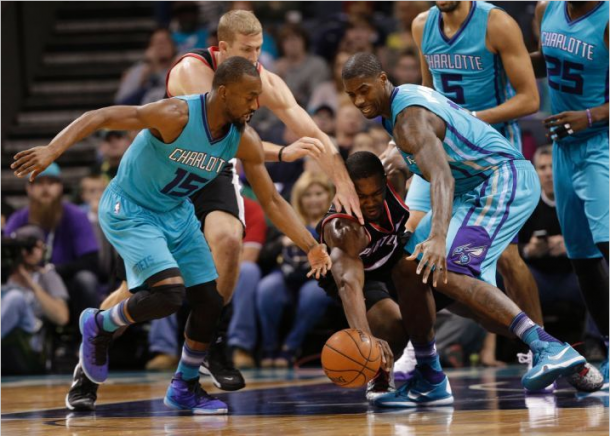 As if trying to prove a point, Portland Trail Blazers head coach Terry Stotts started Noah Vonleh in the absence of Meyers Leonard. Vonleh was acquired by Portland via trade on draft night along with Gerald Henderson from the Charlotte Hornets in exchange for Nicolas Batum. While Vonleh played his best game of the season, Batum overshadowed them both combined. He scored 33 points on five three-pointers, while adding on five rebounds and six assists. Vonleh put up nine points and six rebounds in 24 minutes, all season-highs.
Through the first 12 minutes, the Blazers managed to stick with the Hornets despite their hot shooting from beyond the arc. Batum, Jeremy Lamb, Kemba Walker and Jeremy Lin all hit a three, and Al Jefferson dominated Mason Plumlee in the paint. Plumlee tried denying passes into the post for Jefferson, but Batum and Walker lofted passes over him for easy layups. Portland only trailed by eight after the first quarter thanks to Damian Lillard's 10 points in the quarter.
Al-Farouq Aminu came out of the game three minutes into the first due to foul trouble, and shortly after coming on in the second picked up his third foul, sidelining him for the half. Batum had a field day against everyone who tried to guard him, while Aminu was mostly successful in limiting the ex-Portland Trail Blazer.
The Hornets bench, ranked second in the league with 43 points per game, expanded their lead to over 20 with the kickoff of the second quarter. The Blazers didn't make a shot until 5:45 left in the second; only a Vonleh free throw broke the dry spell. Lillard and Allen Crabbe were Portland's only source of offense, but were unable to keep up with Charlotte's superb outside shooting. C.J. McCollum, normally a reliable scorer, missed eight straight shots after making his first two, contributing to their inability to score. By halftime, the deficit grew to 26 points, with the Blazer defense conceding 71 points.
The third quarter floated by with neither team making an impression. Charlotte began to cool down, but still maintained their lead with ease as Portland couldn't find the bottom of the net.
Finally, 36 minutes later, the Blazers started to turn up the intensity like they did against Memphis Friday night. McCollum made three straight baskets from outside and alongside a ragtag group of bench players staged a 16-0 run, forcing Charlotte head coach Steve Clifford to sub his starters in immediately.
The gap closed from 26 down to six with a few minutes remaining in the quarter, but Portland couldn't finish the job. Several unforced turnovers and bad shot choices by Lillard kept the Hornets at distance. In the final three minutes, they only scored two points and Charlotte coasted to a double-digit victory, 106-94.