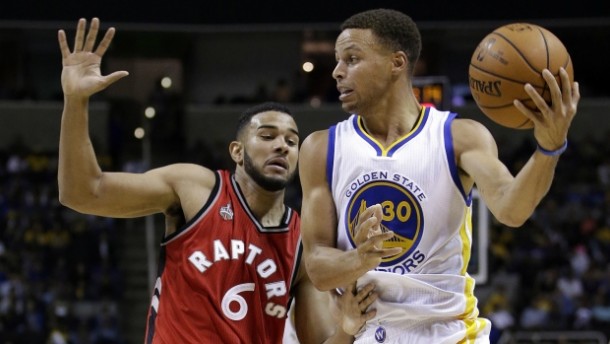 WHEN: Nov 17, 10:30 PM
WHERE: Oracle Arena / Oakland, California
The Toronto Raptors (7-4), coming off a heartbreaking 107-101 loss to the Sacramento Kings, are looking to get back on track against the Golden State Warriors (11-0). Historically, the Raptors have always struggled when playing out west. This will be a huge test for Toronto as the Warriors are currently undefeated, and led by the 2014-2015 MVP Stephen Curry.
It will be crucial for the Raptors to get off to a good start on both ends of the floor. Early this season, they have struggled offensively in the first and second quarters. On Sunday against the Kings, the Raptors shot a measly 37 percent from the field in the first half. If Toronto has a slow start against the sharp-shooting Warriors, they will have an extremely slim chance of winning this game. 2014-2015 All Star Kyle Lowry has been the leader of this team thus far, shooting 42 percent from three and averaging 20 points, seven assists and five rebounds per game. It is already clear that losing weight in the offseason has helped him immensely. Also, having lockdown defender DeMarre Carroll back after struggling with foot problems early this season is a huge factor. He will likely face the difficult task of guarding both Harrison Barnes and or Andre Iguodala.
As for the Warriors, the main focus should be to continue what they've been doing. With Stephen Curry dropping 30+ a game, and shooting nearly 52 percent from the field, it would be hard for the Warriors to lose a game as long as he stays hot. The only concern thus far for the Dubs, is Klay Thompson's health. He has been fighting back issues, and is currently questionable for this game after missing their previous game against the Brooklyn Nets. If he is unable to go, Leandro Barbosa is returning and ready to fill in at the shooting guard spot.
PROJECTED STARTING LINEUPS:
Toronto Raptors
PG - Kyle Lowry
SG - DeMar Derozan
SF - DeMarre Carroll
PF - Luis Scola
C - Jonas Valanciunas
Golden State Warriors
PG - Stephen Curry
SG - Klay Thompson
SF - Harrison Barnes
PF - Draymond Green
C - Festus Ezeli
KEYS TO THE GAME
Toronto Raptors
1) CONTAIN CURRY - Difficult task? Yes. Impossible? No. They have the right man to do that in Kyle Lowry.
2) START STRONG - As stated earlier, if the Raptors get off to a slow start it's game over.
3) FREE THROWS - The Raptors should continue to try to draw fouls. Lowry and DeRozan are both masters at this and as a result, Toronto is second in the league in free throw attempts per game.
Golden State Warriors
1) KEEP SHOOTING - Jump-shooting teams DO win championships, Charles Barkley.
2) DEFEND THE PERIMETER - The Raptors have some three-point shooters in Lowry, Carroll and Patterson. The Dubs should try to prevent Toronto from getting open looks from beyond the arc.
3) CROWD NOISE - "Roaracle" is one of the toughest places to play in the league. It would be big for the Warriors to get the place rocking early.