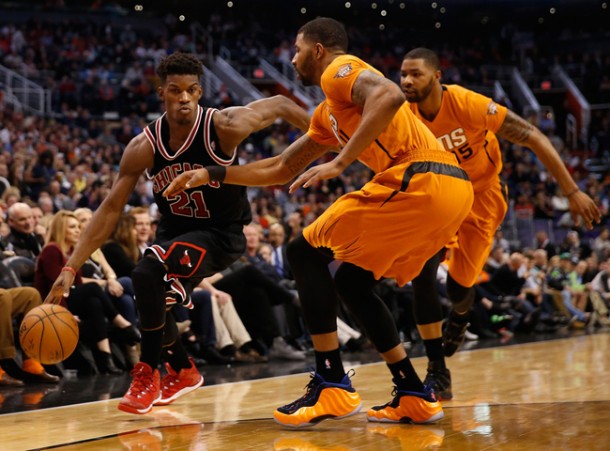 The Chicago Bulls head into their Western Conference road trip against the Phoenix Suns on a 3 game win streak with a 7-3 record on the season. Jimmy Butler helped in the final moments to get the important 96-95 victory over the Indiana Pacers. Although the Bulls have been winning, they need to improve on not letting teams back into games they are out of. Butler stated, "We've got to learn to build on our leads....But a win's a win". In the win Derrick Rose came up gingerly with a ankle sprain and sat out the last minutes of the game to be cautious. In the post game interview a subdued Rose noted, "Just a normal ankle injury; should be all right...I'm just happy nothing's torn or broken. I don't think I'm going to need a walking boot. I'm used to twisting my ankles. When I was younger, that's the injury I always had. I trust and believe in my teammates. I knew they could finish the game. I felt like if I (stayed) out there I could be hurting the team. Right now I'm able to walk on it. That's a good thing. It's just an ankle injury, nothing big and I should be back out there."
Bulls coach Fred Hoiberg will continue getting the front court to push the ball up against the young suns comprised of Guards Eric Bledsoe and Brandon Knight. Coach Hoiberg was impressed with Rose and Butler's play and is confident as they go up against the Suns. Last season, the two teams split their 2 regular season meetings. The Bulls will have to keep the Suns fast pace game style in check as Pheonix leads the league in possessions per game. It will be important for Butler, Pau Gasol, and Joakim Noah to bring defensive leadership as they hold their teammates accountable. The Suns defense is led by big man Tyson Chandler. It will be a matchup of two offensive minded teams. If the Bulls can outplay the Suns in the rebound compartment they will have a good chance of getting the win on the road and start their road trip off on the right track.
The 9:30 PM CT matchup will be featured on ESPN. The 6-4 Suns will attempt to defend their homecourt at the Talking Stick Resort Arena. Markieff Morris will look to do damage in the post for the suns. The Bulls will need efficient production from role players Doug McDermott, Nikola Mirotic, and Tony Snell if they want to turn in a complete performance. The Bulls will also need to manage their turnovers as the Suns will try to get the ball on every opportunity. A win on the road may give the Bulls the spark they need as they look to replicate their great form from last season.