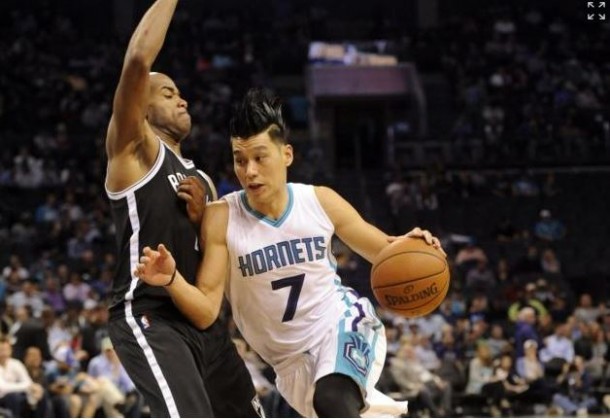 Prior to tipoff, Brooklyn was coming off a victory against the Atlanta Hawks at home, while the Hornets took a road loss to the New York Knicks in Madison Square Garden. The match-up started with a high scoring pace as both teams were tied up at 32 after the first 12 minutes of action and entered the final period tied up at 84. Joe Johnson, who finished the game with 16 points, started off the game with 13 first quarter points on 5-6 shooting. From then on, he would go scoreless up until the final minutes of regulation.
For the grand majority of the game, it remained a close one as neither squad was able to build a big lead. Midway through the final period, Brooklyn was down one point after a Jarret Jack three pointer. Jack notched 16 points with ten of them coming in the final period. The offensive moments continued for Brooklyn but they could not get any defensive stops with their opponents ending at 49 percent shooting from the floor. With 20 second left in the game, Nicolas Batum committed a turnover on a failed inbound pass. Down just four, the Nets had another chance to walk out the Time Warner Cable with a W. Brooklyn failed to capitalize on the golden opportunity however, as Brook Lopez was called for an illegal screen, forcing a turnover. The Hornets sealed the deal by nailing clutch free throws.
Batum bounced back after having a 1-9 shooting game last night and lead his team with 24 points. Kemba Walker and Al Jefferson chipped in 18 points respectively. Charlotte, who is known to have one of the highest scoring benches, obliterated the Nets bench 42-24. Three Hornet reserves notched double digit scoring being lead by Jeremy Lin, who ended with 13 points, 9 rebounds and four assists. Charlotte rookie Frank Kaminsky, had a career high of 11 points on 4 of 6 shooting. Lopez, who has now scored 15 or more points in ten games this season, contributed with 23 points in 35 minutes of action. Thaddeus Young has also been a key contributor for Brooklyn this season, and holds averages of 21 points, 10 boards, and 3 steals per contest for the past four games. He's been shooting 59 percent from the field as well. As a team, Charlotte finished with a total of 16 turnovers while the Nets recorded nine.
Concluding a back to back, the Nets will be on the road once again on Friday, November 20th as they visit the Boston Celtics at the TD Garden. Tipoff will be shortly after 7:30 P.M. EST. For Charlotte, they started the first of a seven game home stand on the right track. Thier next opponent will be the winless Philadelphia 76ers. Game time at 7:00 P.M. EST.