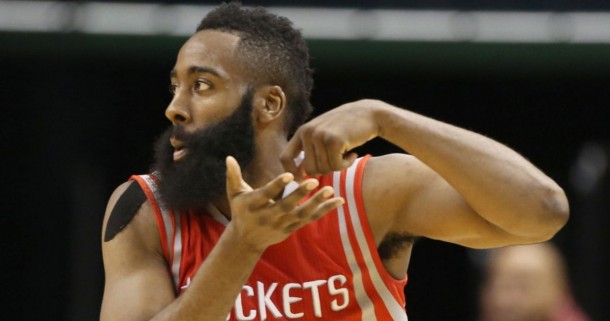 The Houston Rockets are currently sitting in tenth place amidst the Western Conference with a disappointing 5-7 record. Double digit losses to the Boston Celtics, Dallas Mavericks, Brooklyn Nets and Denver Nuggets combined with some disappointing and frustrating performances from star player James Harden, it quickly became clear that changes needed to be made.
Despite being the winningest coach in franchise history and leading the team to the Conference Finals last year, the Rockets decided that Kevin McHale was no longer the man for the job, relieving him of his duties prior to the teams meeting with Portland Trail Blazers last night.
Never afraid to make changes, Houston General Manager Daryl Morey was quoted that the Rockets "are willing to make changes until they win" and further acknowledged the heavy defeats stating "we are losing to teams by double digits that we need to beat, if we have any chance of making the playoffs" before endorsing new interim Head Coach J.B. Bickerstaff.
A team that prides itself on efficient basketball, relying heavily on high percentage looks near the rim as well as the three ball, the Rockets are ranked 25th in total field goal percentage and 29th in three point field goal percentage. While some of that can be put on the coach in some capacity due to McHale's perceived lack of game plan, there is no denying that the ball dominant Harden's struggles and poor play this season have contributed to those numbers being so low.
Harden is averaging his lowest field goal percentages of his career thus far. The bearded superstar is currently shooting 37% from the field with an average of 26% from behind the arc. Harden generally averages around 21 field goal attempts and with such low percentages it is easy to see why the Rockets are finding themselves being blown out of several games with their best player underperforming.
Recent reports suggest that there may be some internal issues when it comes to the players themselves. According to several sources within USA Today, a player's only meeting was held the night prior to McHale's firing, in which many of Hardens team mates expressed their frustration with the superstar's play and seemingly careless attitude. Simply put, Harden's shot isn't falling, he's creating less for his team mates and they are noticing.
Ty Lawson in particular, was brought in by Houston to share the load with Harden in the back court, an acquisition that many thought would boost the Rockets seemingly to the next level. One of the best in the league at getting to the rim and creating open looks for team mates in a fast paced Denver offense over the course of his career, Lawson has been reduced to just another bystander. Forced to drift off to the corner while watching Harden isolate defenders, Lawson and the remainder of the team on the floor stand around aimlessly hoping for a kick out pass for a catch and shoot three pointer. The frustration is understandable.
The problem is however, isolation is Hardens strength, as he is one of the best at breaking down defenders and scoring at the rim or with his famous step back jumper. The key to solving the issue is to find the right balance. When looking at the personnel on this Rockets team it seems simple. A mixture of Harden isolation with some pick and roll from Lawson would allow more opportunities at the rim and open up passing lanes for drive and kick out situations. For that to work however, Harden will need to sacrifice possessions for his team mates.
The season is still young and there is plenty of time to right the ship. With a new coach and possibly a new system being implemented under coach Bickerstaff, it would be surprising to see the Rockets continue their inconsistencies. If so however, as Daryl Morey has publicly stated, we could see more changes coming in the future.