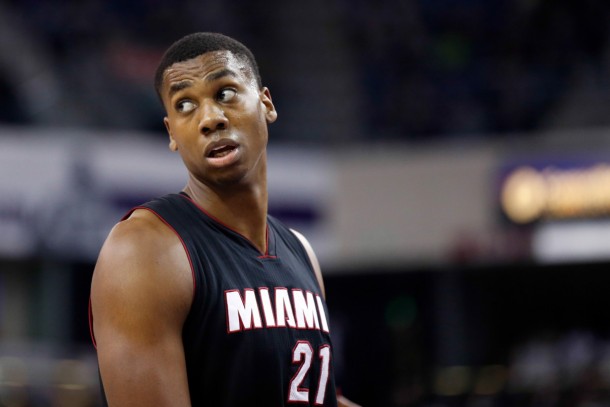 Good teams take care of business on their home court. This is exactly what the Miami Heat did tonight.
Miami was led by team leader and veteran Dwayne Wade, who scored 24 points on 10 of 23 shooting from the field. Also doing his part for the Heat, Chris Bosh ended the night with 23 points and 11 rebounds.
Although the Heat were able to extend their lead to ten at the half, the Sacramento Kings cut it down to six going into the fourth quarter. Rajon Rondo drove this Kings team with a monster performance of 14 points, 9 rebounds, and 18 assists. Unfortunately, it still wasn't enough to get the road win.
Tonight was a tough task for Sacramento, for their star forward DeMarcus Cousins was serving a one game suspension for throwing an elbow at Atlanta Hawks' center Al Horford in his last game.
Honestly, tonight would have been a tough game for the Kings to come out victorious even with Cousins, so without him chalked this one up for the Heat before tip-off.
This win gives the Heat four wins out of five so far on this seven game home stand. It also gives them a 7-4 record on the season, putting them in fourth place in the Eastern Conference.
As for the Kings it drops them eight and a half games back of first place in the Western Conference with a record of 4-9. Good news for them though, the next four on their schedule consist of teams at or below .500.
As for the Heat, the competition will start to pick up after their next game against the winless Philadelphia 76ers. The Heat's next nine opponents have a record at or above .500.
If the Heat want to be a team that is taken seriously this year, they will need to keep winning these type of games, the type against a struggling team.
Up next for the Kings, they travel to Orlando to take on the Magic this Saturday at 4:00 PM CST. This would be a huge win against a quality team on the road for the Kings. They will have DeMarcus Cousins back on the court, which is a huge plus for them. Moving forward in the season, Cousins needs to play like a superstar center every game for the Kings to have any success.
The Heat will stay at home this Saturday at 7:00 PM CST to take on the 76ers, who are still looking for their first win of the season. The Heat could get some momentum started with a win. Wade and Bosh need to play like leaders and Hassan Whiteside needs to keep his level of defense up.