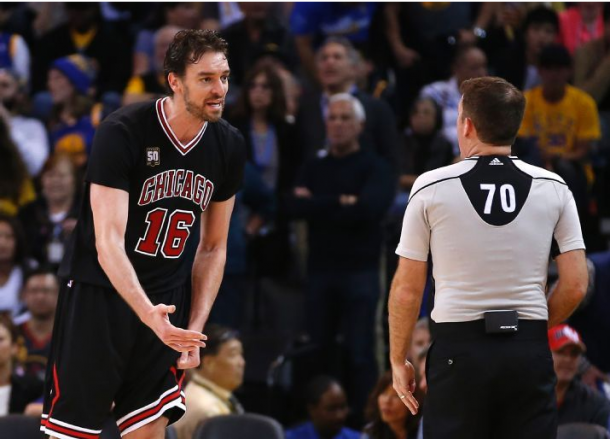 Although the Chicago Bulls lost to the Golden State Warriors on Friday, there were some positives to take away from the game.
The play of Kirk Hinrich and Jimmy Butler were certainly positives. Hinrich, who got the start with the absence of Derrick Rose and Aaron Brooks, played a good game and reminded us all that coaches love to play Hinrich. He's a good defender who always plays hard and can hit the occasional three ball to give some offense. Butler again showed that he is the best player on the Bulls as he led Chicago on offense. He had 28 points and showed his ability to create as isolation plays for Butler turned into open jump shots for Chicago shooters. But Butler can't do it all by himself and it was the difference as the Bulls fell to the Warriors.
But the negatives were glaring, particularly the play of Nikola Mirotic. After playing fantastic for the first week of the season, Mirotic's game has literally fallen off a cliff and his confidence is at an all-time low. His jumpshot isn't falling and his defensive woes could cause Fred Hoiberg to make a switch. Hoiberg could go to either Taj Gibson or Joakim Noah.
The logical switch would be Gibson even though many would predict Noah to start. Gibson right now is the better player of the two and he could give defense and some offense. Noah is all defense and no offense (zero points in the past two games) and Mirotic is usually all offense and no defense. So having Gibson would be a perfect medium for the Bulls.
Another positive-negative for the Bulls would be the return of Derrick Rose. After missing two games with an ankle injury, Rose is back for the Bulls and they have all of their stars healthy. But the stats don't agree with Rose's return as a positive. Chicago has a net rating of -1.4 with Rose on the court and has a rating of 8.2 when he's off the court. While his effectiveness is up for debate, his return would help the point guard depth for the Bulls.
The Bulls will play the Portland Trail Blazers, who recently dispatched the LA Lakers 107-93. After back-to-back wins against both LA teams, the Blazers will look to make it three wins in a row. After losing four of their starting five this off-season, the Blazers are holding on but a playoff push will be hard. But the play of Damian Lillard has been exciting. Many questioned how he would play with the likes of LaMarcus Aldridge to help out Lillard but he is leading the Blazers in scoring (25.5) and assists (7.1) and has asserted himself as the leader of this team.
Let's see how the Bulls play this one out with the return of Rose.