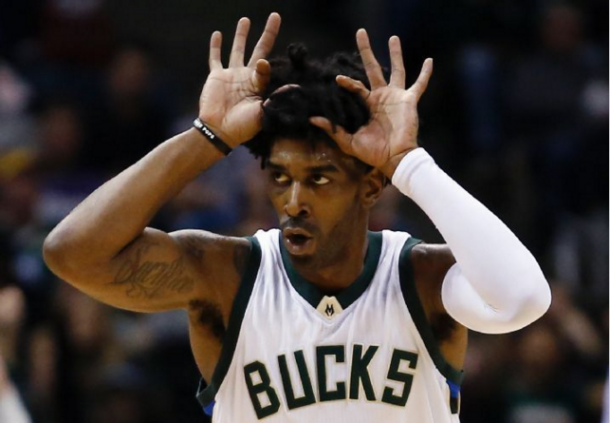 Fresh off a 109-88 victory over the Detroit Pistons Monday night, the Milwaukee Bucks were looking to get back in the win column again but were knocked off 129-118 by the Sacramento Kings Wednesday at the BMO Harris Bradley Center in Milwaukee.
DeMarcus Cousins, who had been a matchup problem for the Bucks averaging 29.0 points and 14.0 rebounds in his last three meetings, was unavailable due to a back injury. Sacramento had been 0-5 this season without Cousins but it didn't matter.  
Rudy Gay scored a season-high 36 points on 13-of-21 shooting to go with five rebounds and two assists in 36 minutes of action. Omri Casspi added 19 and seven rebounds, and Rajon Rondo had 10 points and 13 assists.
Giannis Antetokounmpo and Khris Middleton each had 21 points apiece for Milwaukee, and John Henson had 15 points and 11 rebounds. The Bucks have lost six of their last eight games.
In the first quarter, Gay scored eight of the Kings first 12 points and notched an early 14-11 lead, but the Bucks took advantage of the void left in the paint without the Kings lead man as they drove hard to the hoop whenever they could, resulting in several easy baskets down low. Later, Middleton nailed a three to retake a 20-18 lead but the Kings kept pushing the pace, especially on the fastbreak, and scored at a high percentage to make it 33-28 with 2:54 left.
Meanwhile, the Bucks were completely lackadaisical on defense, allowing Sacramento to also drive to the basket at will, particularly Rondo who continuously beat Michael Carter-Williams and recorded seven assists. The Kings ended up with a 40-33 lead after shooting 77 percent with 10 assists, while the Bucks only shot 50 percent with also 10 assists.
In the second, the Kings opened a 48-43 lead but Milwaukee also kept hitting shots starting the period 8-for-11, with the bench scoring 18 of their first 21, and answered with a 26-18 run to tie it 59-59. Sacramento maintained its blistering pace and the superb shooting persisted as they went on another 8-0 run, but Milwaukee kept within striking distance as they had seven threes in the first half including one at the buzzer by Jerryd Bayless to make it 69-66 at halftime.
Gay led the Kings with 20 points while Monroe carried the load for Milwaukee with 10. As a team, the Kings outshot the Bucks 64 to 51 percent, but the Bucks outrebounded them 22-17 and had more assists 18-15. Both squads were taking good care of the ball as they combined for just seven turnovers.
Defense remained non-existent in the second half but like the first, both teams were doing a good job moving the ball inside and out. Middleton scored eight of the Bucks first 10 to seize a 76-75 lead, but the Kings retook an 85-80 lead following a Rondo jumper with just over five minutes remaining. Interestingly enough, the Bucks were utilizing a three guard lineup in an effort to keep up with Sacramento as they opened an 89-80 advantage, and Milwaukee closed the gap 93-92 before Marco Belinelli hit a triple at the end of third.
The Bucks kept grinding away and reeled off five straight points in the final stanza, but the Kings continued to execute flawlessly on offense and no matter how much effort was given on defense, it was rendered obsolete. Sacramento opened up a 12 point advantage and never looked back as they cruised to a 129-118 victory.  With 1:49 left, Jason Kidd was ejected when he knocked the ball out of a referee's hand and had to be restrained before being escorted back to the locker room.
It was a frustrating loss for Milwaukee because even though they hit a season-high 13 shots from beyond the arc, the Kings outshot them 57-to-48 percent and is now a pitiful 1-8 when allowing over 100 points. The team has struggled tremendously all year on defense and if they could've played just several minutes of solid defense, especially Antetokounmpo on Gay, the result might have been different.
Milwaukee heads on the road to face the Orlando Magic on Friday while the Kings host the Minnesota Timberwolves.