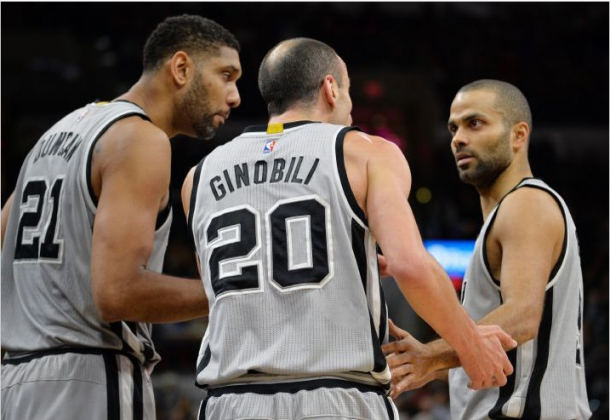 It was one of those games for the Chicago Bulls on Saturday against the Indiana Pacers. The Bulls shot a woeful 34.8 percent from the field and it didn't help that Jimmy Butler and Derrick Rose shot a combined 8 of 26 from the field, as the Bulls were outplayed all game in a 103-94 loss to Indiana.
Now the Bulls will have to rebound quickly as they take on the San Antonio Spurs. This season has looked like it will be another quality season for the Spurs. The Spurs are 14-3 and are second in the Western Conference behind the Golden State Warriors. Like every year, Gregg Popovich has this team playing hard and has incorporated new man LaMarcus Aldridge into the team.
If Chicago thought they had a tough time scoring against Indiana, they are in for a horrible time against the Spurs. San Antonio is the best team in the NBA in terms of points allowed, giving up just 89.7 points per game. With defensive stud Kawhi Leonard leading the way, Jimmy Butler and the old Bulls would have been in for a defensive struggle against the Spurs. But this isn't the old Bulls.
The Bulls are better offensively but still hold the same tendency to switch off and go on long stretches of not scoring. Meanwhile, their defense has taken a hit as Fred Hoiberg has sacrificed defensive stability for offensive firepower.
The key matchup will be between Kawhi Leonard and Jimmy Butler. A game after facing Paul George, Butler will be faced with the task of playing against another good two-way player in the NBA. But Leonard is a much more of a defensive player than George is. With a wide wing span, Leonard will make life tough for Butler on the offensive end and Butler will make life hard for Leonard as well. Whoever wins this matchup will have his team in a good position to win this game.
The Bulls will still be short-handed as Kirk Hinrich looks doubtful to play after suffering an injury against Indiana. Aaron Brooks and Mike Dunleavy remain out for the Bulls. Brooks is still recovering from an injury against Phoenix and Dunleavy is still out with a back issue. Expect another night of solid minutes from E'Twaun Moore, who has shown to be a good on ball defender for the Bulls.
It will be another tough test for the Bulls as they face one of the most consistent teams of the 21st century in the San Antonio Spurs, and it could get ugly if Chicago's offense decides not to show up again and remain stagnant. But expect Jimmy Butler and the rest of the offense to keep shooting and hope that Saturday was just one of those nights.