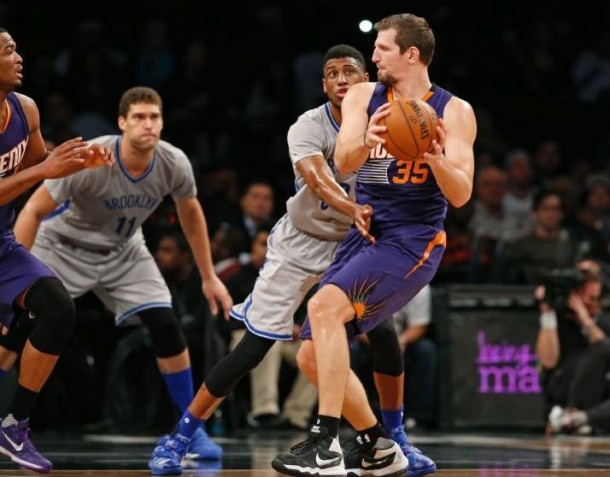 After dropping their first three home games of the season, the Brooklyn Nets retaliated with four straight home victories, as they defeated the Phoenix Suns Tuesday night, 94-91. They have one upcoming road game which will follow by a six-game homestand.
Brooklyn's ball movement got off to a sloppy start with five first quarter turnovers, but their offensive game was on point as they finished the period making five-straight shots and held a five point lead. By halftime, they were up 51-42.
Phoenix responded with a 20-8 run to start the third as they tallied the highest scoring period of the game with 31. After being down 81-72 early in the fourth quarter, Brooklyn fought back and went on a 12-2 run to retake the lead, 84-83. The two teams would go back and forth and keep it close down the stretch. With four seconds remaining in regulation, Phoenix had one last shot to tie the game with a three-pointer to send it to overtime, but the Nets strong defense made sure they prevailed and were the ones to walk out Barclays Center with another home victory.
Similar to last game, head coach Lionel Hollins gave reserve Shane Larkin big fourth quarter minutes. Larkin would not disappoint as he finished the game with 11 points and eight assists, and made big plays with key scoring and passing. Wayne Ellington was another reserve who came up big during crunch time. Ellington also added 11 points off the bench on 5-of-7 shooting from the field.
The starting guard Jarrett Jack also had 11 points and eight assists. Brook Lopez shot 50 percent from the floor and recorded 23 points while logging in 36 minutes of action. Joe Johnson added nine points.
Suns guard Brandon Knight led his team with 26 points while Eric Bledsoe added 17 of his own. Alex Len, who got the start for the injured Tyson Chandler, finished with a double-double of 13 points and 14 rebounds. Mirza Teletovic, who spent the first three season of his NBA career with the Nets, had an efficient game and led the bench with 12 points on 4-of-9 shooting from beyond the arc.
Brooklyn made 49 percent of their shots while Phoenix shot 44 percent from the floor. The Nets recorded a total of 23 assists to go along with 42 boards. Another category the Nets came up on top was bench scoring, as their reserves outscored their opponents bench 35-to-20. Both teams finished with a large chunk of turnovers; Phoenix ended with 16 while Brooklyn had 15.
The Nets will have two days of rest before taking on their cross city rivals, the New York Knicks at Madison Square Garden on Friday, December 4th. Game time will be at 7:00 P.M. and and can be seen on ESPN. For Phoenix, they will continue their road trip tomorrow night against the Detroit Pistons at the Palace of Auburn Hills. The game will begin at 7:30 P.M. EST.