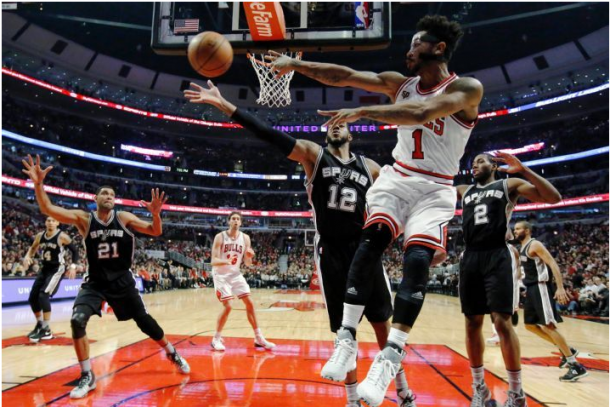 It was another impressive win at home for the Chicago Bulls. Coming into this game with a 6-1 home record, the Bulls have beat the Cleveland Cavaliers, Indiana Pacers and Oklahoma City Thunder at home already and now you can add the San Antonio Spurs to that list.
In the midst of a minor slump, Chicago rebounded at home with a strong performance against the Spurs as they held on for a 92-89 victory. The Bulls were led by big man Pau Gasol who had another double-double with 18 points and 13 rebounds. Jimmy Butler added 14 points for the Bulls but the biggest boost came off the bench for the Bulls. Joakim Noah decided to turn back the clock as he sparked Chicago with eight points, seven assists and 11 rebounds. Noah is the heart and soul for Chicago and they feed off his energy. Noah doesn't like coming off the bench but credit him for not complaining and doing his job like a professional.
There is no way of knowing if Joakim Noah will ever get back to the level he was at when he was the Defensive Player of the Year, but seeing Noah with energy and confidence on the offensive end is a good sign for Fred Hoiberg and the coaching staff.
It has been a good start for the Fred Hoiberg era as Chicago still remains one of the top teams in the East and are starting to look like they are figuring things out on both ends of the court. Hoiberg has sacrificed some defense for offense, but the bottom line is that Chicago is stepping up to the big teams in the NBA, it's just that they have to play hard every night no matter who they play.
The Bulls will host the Denver Nuggets who come in with a 6-12 record which has them in the 13th seed in the Western Conference. The Nuggets are in a slump as they are coming into this game on a seven-game losing streak, which included a smacking by the Milwaukee Bucks on Monday. After the mess with Brian Shaw last year, Mike Malone is still trying to fix this team and it may take a while for the Nuggets who have some good players that just haven't jelled.
One big problem is the Denver offense, which has failed to score over 80 points in the last three games. It's surprising to see this Denver team fail to score the basketball with scorers like Danilo Gallinari and rookie Emmanuel Mudiay.
Chicago will still be without guards Kirk Hinrich and Aaron Brooks as they are recovering from injuries they suffered in the past month, and Mike Dunleavy is still out with a back injury and hasn't played all season.