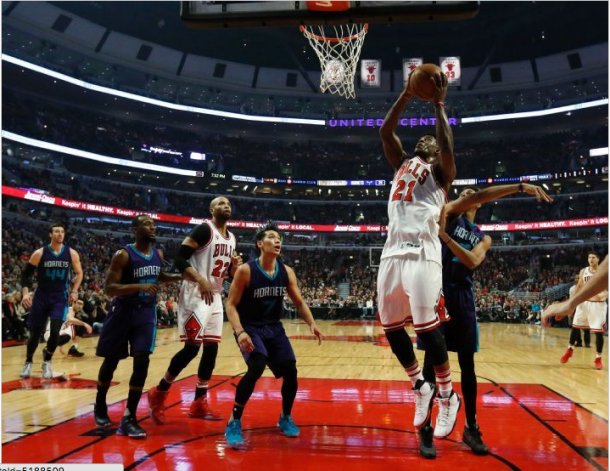 It was a poor showing by the Chicago Bulls as they had their winning streak snapped by the Charlotte Hornets.
Fast Start Fuels the Hornets
It was a quick start by the Hornets as the teams had opposite success when shooting the ball. The Bulls started out shooting the ball poorly as they opened the game shooting 16% to begin the game. Meanwhile, the Hornets started out hitting their first five shots and jumped out to a 12-3 lead. The Hornets almost 60% from the field and raced out to a 26-22 lead at the end of the first quarter. The Hornets were led by the nine first quarter points of Kemba Walker.
The Bulls got a spark off the bench as Doug McDermott came in and scored five quick points for Chicago as they looked to close the gap. The Bulls took their first lead with 9:41 left in the second quarter and the teams battled back and forth as the Bulls were paced by the 10 points of Derrick Rose in the first half. But, it was the Hornets who took the lead into halftime.
Bulls falter at the end
Chicago started out the game on a much better offensive note than the first half as Derrick Rose and Jimmy Butler started heating up for the Bulls. It was a huge night for Chicago backcourt as they combined for 46 points on the night. But the Hornets kept up as Walker and Nicolas Batum, who always seems to have a good game against Chicago, were helping Charlotte stay in the game. But the Hornets shooting was poor compared to the first half.
The two teams battled back in the fourth quarter as they entered the final minutes of the game tied 86-86. But then Batum hit a three to put Charlotte up and then Jimmy Butler went down the court and matched Batum's three with a three of his own. The way this game was going, everyone knew it was coming down to the final minute.
But then, Charlotte got two clutch free throws from Cody Zeller and a Walker stepback jumper gave Charlotte the 98-94 lead and put pressure on the Bulls. Then, Jimmy Butler turned over the ball in Chicago's next possession and the game was essentially over.
It was a tough ending to the Bulls as their offense failed them when they needed it the most. It was a poor shot by Pau Gasol, a Butler turnover, and a failure to boxout on a free throw that allowed the Hornets to close out the game. It was a big win for the Hornets as Charlotte walked out of the United Center with the victory tonight.