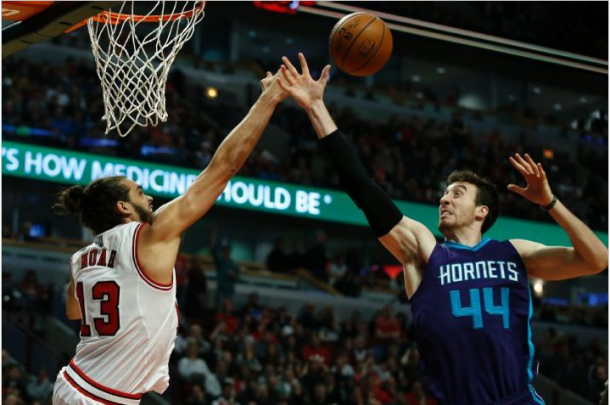 The Chicago Bulls will finish off their homestand as they welcome the Phoenix Suns to Chicago.
Bulls defense falters again
It was a disappointing effort by the Bulls in their last game against the Charlotte Hornets. The Bulls came into the game on a winning streak and they were outplayed the whole game by Charlotte. Chicago's defense faltered late as they allowed Charlotte to get relatively easy baskets down the stretch, and then failed to box out on a free throw and gave the Hornets a free possession which essentially ended the game.
Chicago will have to amp up the effort on the defensive end against a Phoenix Suns team that likes to push the pace on offense. Behind the backcourt duo of Eric Bledsoe and Brandon Knight, the Suns are third in points per game in the NBA and it will be a challenge for Chicago. Knight has had a resurgence in his career after being traded to Phoenix and is averaging 21.7 points per game for the Suns. In an offense as open as Phoenix's, anyone can have a big night on any give night but Knight has been the most consistent player on Phoenix and his backcourt partner Bledsoe has been right there as well. It will be a tough defensive matchup for Jimmy Butler and Derrick Rose as they face one of the best offensive backcourts in the league. Butler will hold his own on the defensive end so the only doubt in this matchup is if Rose can lock down his man on defense.
The Suns come into this game on a four-game losing streak however, and were beaten on a Jeff Green buzzer-beater in their last game against the Memphis Grizzlies. The Suns sit 11th in the West and are two games behind the Houston Rockets for the eighth seed.
Another big game for Jimmy Butler?
Jimmy Butler had one of the best games of his career against the Suns when these two teams met in Phoenix earlier this year. Butler had 32 points and took over on offense for the Bulls down the stretch, as they held off a late Suns rally for a 103-97 win.
Butler showed in that game that he can take over a game offensively and that he has taken the next step. Chicago used Butler heavily in isolation and he produced. Although he would like to have a more consistent jump shot, Butler's shooting stats have increased every year and now he's able to take a defender to the hoop or pull up and knock down a jumper. If Butler can have the same type of night like he did in Phoenix, the Bulls will have an easy time against the Suns.