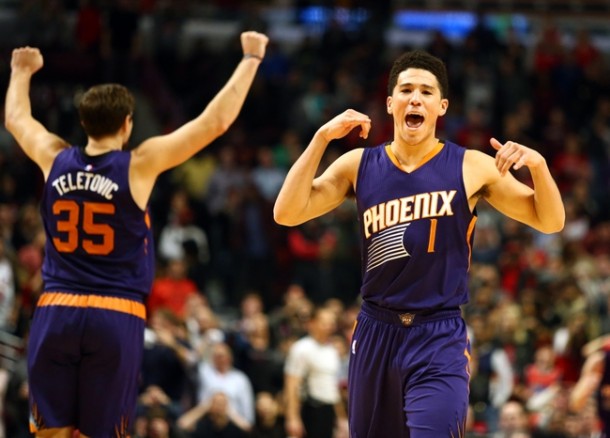 It was a bad loss for the Chicago Bulls, as they blew a 16-point lead in the fourth quarter and lost on a last second shot by Mirza Teletovic as the Phoenix Suns escaped with a 103-101 win.
Hot shooting first half
After losing to the Charlotte Hornets, the Bulls came out of the gates quickly as they paced out to a 30-27 lead at the end of the first quarter. The Bulls were led by the 11 points by Pau Gasol and the eight by Tony Snell, who had a surprisingly nice first quarter for Chicago. But Phoenix stayed in the game despite Chicago's hot shooting and the fact that Brandon Knight was basically nonexistent on offense. Phoenix relied on the hot shooting of Mirza Teletovic, who hit two three's in the first half and had 10 points to lead Phoenix at the half. The Bulls and the Suns were deadlocked at 51 at the half, with Chicago shooting a solid 42 percent from the field.
Bulls blow big lead as Brandon Knight takes over late
The third quarter could have been one of the best quarters the Bulls had played this season. Chicago opened the third quarter on a 7-0 run thanks to Pau Gasol continuing his solid first half. As Gasol flirted with a possible triple-double, the Bulls went off in the third quarter. Chicago scored 24 points in the quarter compared to the 10 scored by Phoenix. It was a 77-61 lead for the Bulls as they entered the fourth quarter.
The Bulls kept the lead at double digits for a while but Phoenix kept chipping away at the lead. After three quarters of deciding to not play basketball, Brandon Knight woke up in the fourth quarter and took over the game for Phoenix. Knight scored 17 points in the fourth quarter as the Suns came roaring back from a double-digit deficit. The comeback was complete when Eric Bledsoe picked Derrick Rose's pocket that eventually led to a layup by Bledsoe. It was a showdown between Brandon Knight and Derrick Rose, as the two point guards traded points back and forth as the game looked to be heading down to the last possession.
With the ball and game tied at 101, the Suns were able to find themselves an open three-point shot but the shot clanked off the rim. Then Mirza Teletovic came out of nowhere and snatched the rebound and then threw up an off balance prayer that banked off the glass and in with only 0.3 seconds left in the game. Derrick Rose's lob attempt to Jimmy Butler was tipped away as Phoenix came in the United Center and stunned the Bulls.