First it was Avery Bradley.
Then it was Evan Turner.
Lastly, it was Jae Crowder.
Whichever defensive stopper the Boston Celtics placed on Golden State Warriors point guard Stephen Curry over the course of Friday night's 124-119 defeat, it simply did not matter. The defending NBA MVP is simply not a human being.
Despite hitting on just nine of his 27 field goal attempts while committing eight turnovers, Curry somehow ravaged the Celtics defense to the tune of 38 points, 11 rebounds and eight assists in 47 minutes, nearly capturing a triple-double while pushing Golden State to its 24th consecutive victory to begin the season and 28th straight win dating back to 2014-15 in a double-overtime thriller.
Warriors power forward Draymond Green lasted for an astounding 50 minutes of action, posting 24 points, 11 rebounds, eight assists, five blocks and five steals. Golden State received instrumental assistance from its bench, as well, with small forward Andre Igoudala contributing 13 points and 10 rebounds in 44 minutes, center Festus Ezeli adding 12 points and 12 rebounds, and point guard Shaun Livingston garnering 12 points in 35 minutes.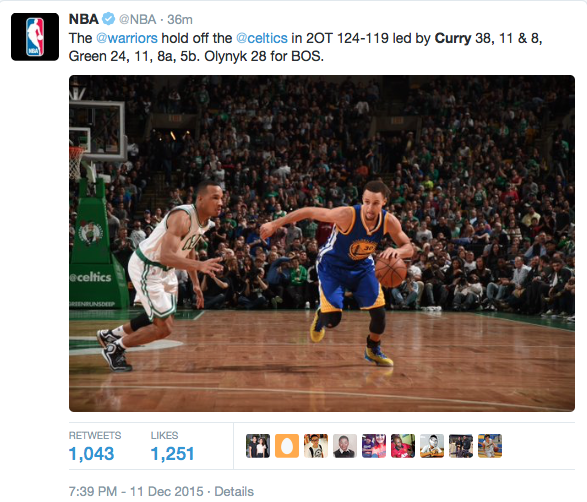 For Boston, reserve center Kelly Olynyk was superb, shooting 11-for-21 en route to a 28-point, six-rebound effort. Bradley chipped in 19 points while hounding Curry throughout the night. Point guard Isaiah Thomas recorded 18 points, 10 assists and six rebounds, Crowder added 15 points and five rebounds in 48 minutes, and center Jared Sullinger piled up 11 rebounds to accompany his seven points to round out the Celtics' starters.
Off of the bench in addition to Olynyk's performance, Turner posted 13 points, nine rebounds and six assists while power forward David Lee added 10 points.
The Celtics were able to outshoot the Warriors, 43 percent to 39 percent, while committing just 15 turnovers to Golden State's 18, however, their porous showings on the glass and at the free-throw stripe signaled their downfall.
Boston recorded just 51 total rebounds in comparison to the Warriors 67, while shooting just 9-for-16 at the line while Golden State made 31 of their 39 attempts. The Warriors also picked up 21 fast-break points, consistent with their league-leading average.
The Celtics played the Warriors close throughout the first half, trailing 57-53 at halftime, however, Golden State jumped out to a 76-65 lead with 3:42 remaining in the third quarter after a rapid 5-0 surge.
Unable to be put to rest, the resilient Celtics fought back, going on an 11-1 run to begin the fourth quarter while pulling ahead 89-85 after a Thomas three with 7:31 remaining.
After the Warriors regained control, two free throws and a three-pointer by Thomas put Boston ahead, 99-94, with just under four minutes left in the game.
However, Curry dragged his team to the finish line of regulation, hitting a pair of free throws with 1:16 left to cut the deficit to 101-100 before drilling a clutch three-pointer off of a screen to give the Warriors a 103-101 lead with 46 seconds remaining.
A layup by Thomas followed, and with the Celtics unable to capitalize on a last-second opportunity to win the game, the contest went to overtime.
A three-pointer by Igoudala two minutes into the extra period gave the Warriors a 108-105 lead, however, a three by Olynyk in response tied the game up with 1:04 remaining. Curry followed with a driving layup, however, Boston responded with a bucket, sending the game into a second overtime period after a runner by Thomas with the clock dwindling fell short.
With both sides gasping for breath, the second overtime began sloppily, with Igoudala scrounging for an offensive rebound and a putback which gave his team a 114-113 lead with just under three minutes left. After Livingston and Turner traded buckets, Green put Golden State ahead 118-117 with a contested running layup.
Turner countered with a basket of his own, however, four consecutive free-throw makes from Livingston and Curry sandwiched a layup by Crowder, pushing the Warriors advantage to 122-119 with 13 ticks remaining.
Crowder was granted a wide-open deep two-pointer with five seconds remaining, however, it sailed long, sending the Warriors to the locker room hanging on to their winning streak with dear life.