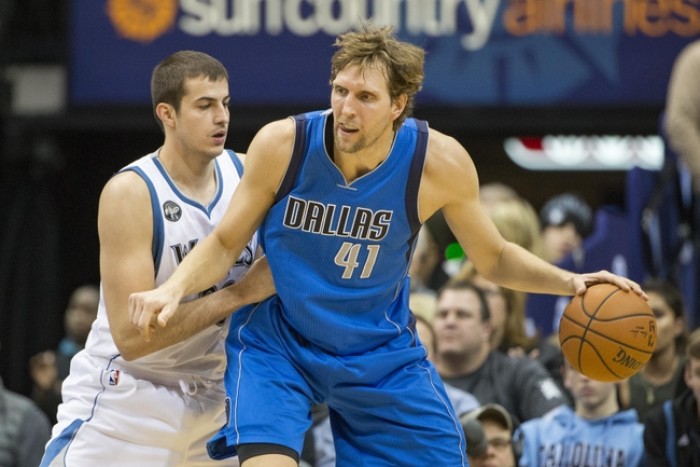 The Minnesota Timberwolves lost their sixth straight game on Sunday night as they fell to the visiting Dallas Mavericks, 93-87. The loss is the sixth straight for Minnesota, and is their longest losing streak so far this season under head coach Sam Mitchell.
Top Performers
The Timberwolves were led by Andrew Wiggins, who had 21 points and seven rebounds, along with three assists. Shabazz Muhammad came off the bench added 16 points, but it was not enough for Minnesota.
Dirk Nowitzki led all scorers with 29 points on 12-of-22 shooting, while grabbing seven rebounds to lead Dallas to victory. Chandler Parsons added 14 points on 6-of-7 shooting, while Zaza Pachulia finished with a double-double of 13 points and 11 rebounds.
For Minnesota, the loss is another black mark on what was supposed to be a storybook season, as the young stars were to lead the team to a better finish than previous years. That notion was set in stone when the team went 4-2 to start the season before embarking on a four-game losing streak that set the tone for what has become of the season.
Early Lead Not Enough In The End
The Timberwolves held the lead at the end of the first quarter, but were outscored by Dallas the rest of the way. After the first quarter, the Timberwolves only held the lead one time, midway through the third quarter. After that point, Dallas pulled away and accumulated some of their biggest leads of the game late in the third quarter into the fourth quarter.
The loss is just another blow to a young Wolves team that has seemingly been in a rebuilding phase for a while now. Kevin Garnett, who was brought in over the offseason to provide some veteran leadership to the team, was a non-factor in the game, as he scored just two points with no rebounds and two assists. Rookie Karl-Anthony Towns, who was a high draft pick in the June draft, scored 10 points while grabbing only four rebounds. Ricky Rubio had a good game, as he scored 12 points with eight assists and seven rebounds, narrowly missing a triple double.
Up Next
The Timberwolves now will look to snap the losing streak on Tuesday, when they host the Oklahoma City Thunder to wrap up their four game home stand. After that, they will travel south to face the Houston Rockets on Wednesday, before facing the Thunder again next Friday in Oklahoma.
Dallas, meanwhile, will return home to host the Cleveland Cavaliers before heading on the road again for a three game road trip that will see them in Oklahoma, Chicago, and San Antonio. The Timberwolves and Mavericks will meet up again on January 20th, when the Mavericks will host the Timberwolves in the midst of a three game home stand.