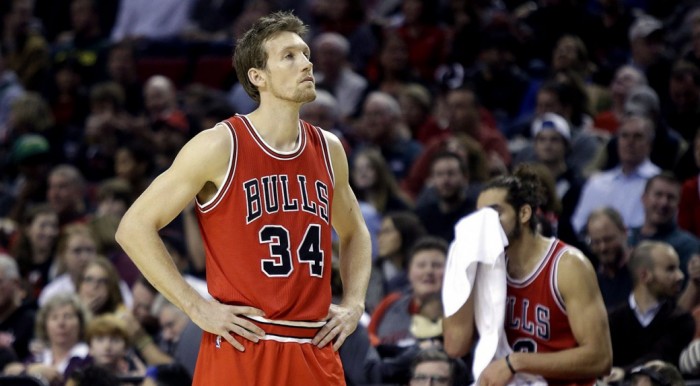 On Monday, the Chicago Bulls announced forward Mike Dunleavy is assigned to play for the Santa Cruz Warriors, the D-League affiliate of the Golden State Warriors. It is in accordance with the Flexible Assignment Rule.
Dunleavy has been out the whole season after undergoing a low back microdiscectomy procedure on Sept. 25, 2015. Originally, the forward had aimed to return to Chicago before the end of 2015, but due to a few setbacks his recovery was prolonged. The plan for Dunleavy had been to travel with the team for their seven game road trip, but upper management has decided it is best the veteran gets some practice in with the developmental league before he joins the team. His expected return date will likely be after the All-star break on February 12th-14.
"There won't be any of that," Dunleavy said. "If I'm not ready, I'm not ready. But if I'm ready, it's not like, 'Let's take an extra week.' I've been out long enough. It's time to roll."
The veteran has said his back has been feeling good as he is inching toward his return. With a ton of injuries for the squad already, he will be an extremely important addition for the Bulls.
"I'm pain free. I'm feeling good, moving well," he said. "A little bit more conditioning to get in game shape. But then just a couple of good scrimmages where I say, 'All right, I can play in an NBA game.'"
The Bulls have ran out of gas in recent weeks and their lack of depth is showing on both ends of the ball. Dunleavy adds an extra scoring threat to the offense and a smart basketball mind who can handle close game situations. Expect Coach Fred Hoiberg to be looking for good production from the returning player. Hoiberg has moved lineups around a lot throughout this season, and the addition of Dunleavy will take away some minutes from other players.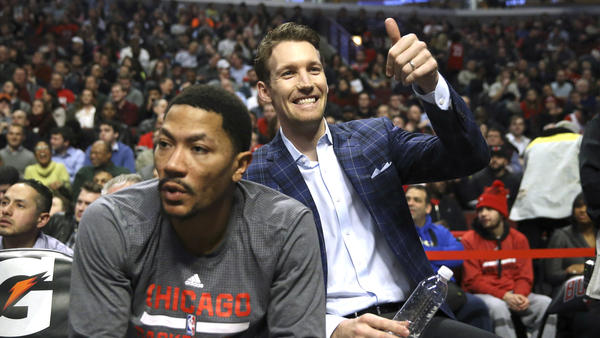 Dunleavy is all smiles alongside Derrick Rose during the Bulls-Heat game. (Nuccio DiNuzzo / Chicago Tribune)
There have been questions whether Dunleavy will fit in with the new systems Hoiberg has implemented. Dunleavy's return will be the first time he sets foot on court with his new coach although he has been alongside the team throughout the season.
"He picks things up very quickly," Hoiberg said. "He has been watching every day on the sidelines. We've had him running plays with the second group after practice for the last week and a half."
It is a good sign that Coach Hoiberg is confident in his veteran player as he looks to fit in well with the group. He has been working hard to ensure he is NBA ready and also serious about helping his team out in their playoff hopes. In regards to initial minutes, Dunleavy will be initially placed under restricted minutes as he gets back into the flow of things. It is unsure whether he will be a starter or on the bench moving forward. A lot of decisions will have to be made in the next few weeks.