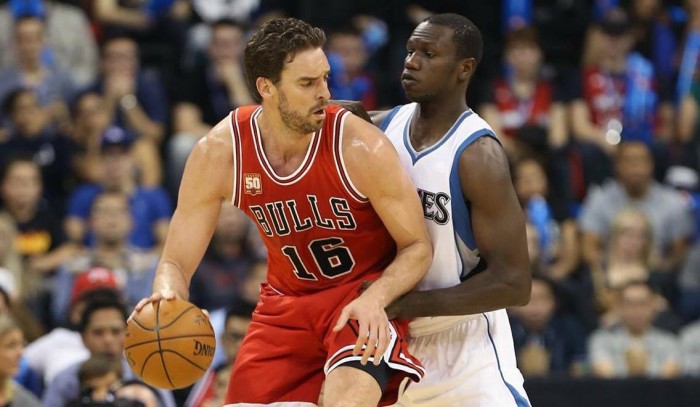 The woeful Chicago Bulls continue to go down hill with another disappointing loss to the Minnesota Timberwolves. The Timberwolves won 112-105, improving to Timberwolves improve to (16-36) on the season, while the Bulls fall to (27-23). The Chicago Bulls are now 6th seed in the eastern conference, and the Timberwolves are 13th in the west.
With a loss last night against the Denver Nuggets, the Bulls were looking to continue this 7 game road trip with a victory tonight. The Chicago Bulls shot 47.1% in FG, had 31 rebounds as a team, and shot 40% on 3-pointers. Derrick Rose had 18 points, 10 assists and 5 rebounds. Pau Gasol ended the night with 25 points, 3 assists and 8 boards. E'twan Moore, who started tonight, helped the Bulls out with 17 points, 7 assists and 3 rebounds. Also the rookie Bobby Portis continues to improve with 15 points and 3 rebounds.
The Minnesota Timberwolves got the win tonight shooting 51.7% in FG, with got a total of 45 rebounds, 9 turnovers, but they only made a single out of 12 attempts, a dissapointing 8.3%. Karl Towns had a good game with 26 points and 17 rebounds. Andrew Wiggins had 21 points, 2 assists and 2 rebounds. Gorgui Dieng added 24 points, 7 assists and 13 rebounds tonight, he played a good game as well.
Minnisota Timberwolves out scored the Chicago Bulls in points in the paint and fast break points. While the Chicago Bulls out scored the Timberwolves in bench points tonight. The Timberwolves had 58 points in the paint, 20 fast break points, as well as 25 points from the bench. The Chicago Bulls had 46 points in the paint, only 7 fast break points and the bench added 36 points.
On the bright side, Mike Dunleavy played his first game of the 2015-2016 season with the Bulls. Mike Dunleavy missed 40 games before tonight. Tonight he scored a total of 5 points 2/4 in FG. He also had a 2 handed dunk in the beginning of the 3rd quarter, his first 2 points of the season. Dunleavy is spreading the floor, he knows when to move the ball, and he is creating screens.
After tonight loss to Minnesota, Mike Dunleavy stated: "We're to good to play like this. We got good players, we're well coached. We have to have the feeling we're going to get this done. We have to have a bigger team ego. There is this doubt that seems to be creeping in."
Next team up is the Charlotte Hornets (25-26) on Monday in Charlotte. They're coming off a win over the Washington Wizards. With only one day to rest, the Chicago Bulls need to figure out a different way to get another win streak doing or they will continue to go down hill.