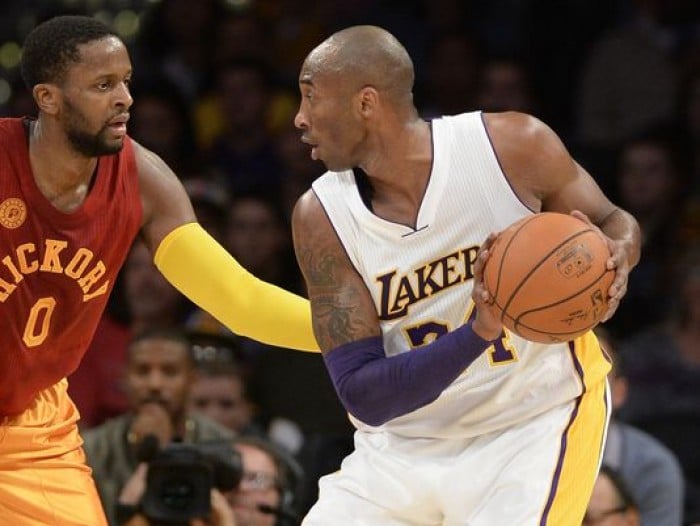 On Monday night, the Los Angeles Lakers and Kobe Bryant will make their one and only visit to Bankers Life Fieldhouse to face the Indiana Pacers. This will also mark Kobe Bryant's last game in Indianapolis against the Pacers. Bryant has had an amazing career, and had some very good games against the Pacers as well. Paul George and Kobe Bryant is a matchup everyone will want to see.
Last Matchup
The last time the Pacers and Lakers met, it was in Los Angeles at the Staples Center, with the Pacers barely pulling out the 107-103 win. The Pacers wore their Hickory uniforms that night in Los Angeles, in front of Reggie Miller. That night was also the night Kobe Bryant announced that this would be his final season in the NBA. Paul George was exceptional in that game for the Indiana Pacers. George scored a game high 39 points for the Pacers. Kobe Bryant struggled big time in the last meeting, only scoring 13 points, with 4 of 20 shooting on the night. Bryant did however come up with a huge three pointer with 11 seconds to go in the game, and had a chance to tie the game with about 6 seconds remaining, but the shot wasn't even close. Jordan Clarkson and Nick Young led the Lakers that night in scoring, with 22 points. The Pacers late game struggles almost cost them in that game, as the Pacers once led the game by as much as 22 points. They let the Lakers back into the game, and the Lakers had a chance to win the game, but fell just short. It didn't help that the Pacers were without their now starting power forward Myles Turner, who was still out with a thumb injury. The Pacers will have Turner when they meet the Lakers on Monday, and he will be in the starting lineup for the Pacers.
Hibbert Returns
Former Indiana Pacers center Roy Hibbert, who is now the starting center for the Los Angeles Lakers will make his return to Bankers Life Fieldhouse to play his former team Monday night. Last time Hibbert faced off against the Pacers, he wasn't a big factor, as he only scored 8 points. Hibbert will look to have a better game this time around against the Pacers. The attention won't all be on Hibbert though on Monday night, it'll mainly be that this is Kobe Bryant's last time playing in Indianapolis against the Pacers.
Projected Starters:
Lakers: PG: Louis Williams, SG: Jordan Clarkson, SF: Kobe Bryant, PF: Julius Randle, C: Roy Hibbert.
Pacers: PG: George Hill, SG: Monta Ellis, SF: Paul George, PF: Myles Turner, C: Ian Mahinmi.
Injuries:
Lakers: Kobe Bryant- questionable (sore right shoulder), Larry Nance Jr.- out (sore right knee).
Pacers: Rodney Stuckey- out (right foot).