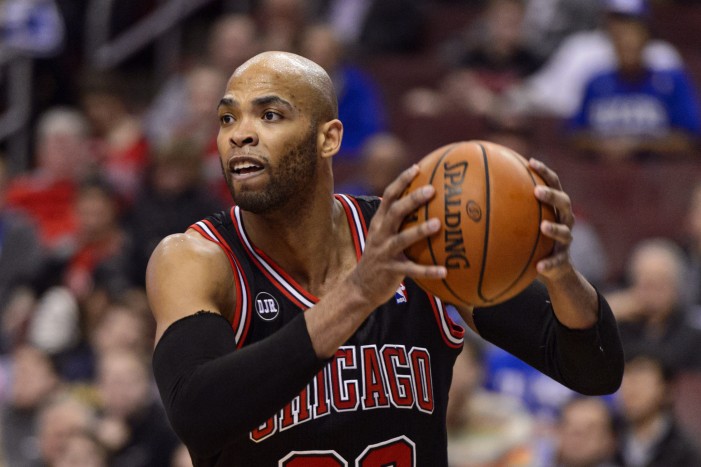 The trade deadline is two days away, and the Chicago Bulls are actively talking about trading Bulls' forward Taj Gibson to the Toronto Raptors in exchange for Patrick Patterson. Whether it is a rumor or not, the Bulls' fan base is skeptical about this upcoming report by ESPN's Zach Lowe.
Gibson, who is averaging 7.2 rebounds per game, would be a good enough trade piece for the Bulls since the Bulls' center Joakim Noah is out for the season due to a left shoulder injury. According to Lowe, the Bulls offered Gibson for Patterson in order to retool a team made for Bulls' head coach Fred Hoiberg, in this case would be a smart move on their part.
"The Bulls may also want quality rotation guys instead of future assets," reports Lowe. "They've pitched Toronto on a Taj Gibson-Patrick Patterson swap that would give them a stretch power forward with another season left on a tidy contract – and trim their tax bill."
Patrick Patterson, a power forward in Toronto, is averaging 6.3 PPG, 1.1 APG, and 4.2 RPG in 24.4 minutes this season. A young forward that can also stretch the floor would be a nice asset to Hoiberg's offensive system.
If this trade is accepted, that will give the Bulls the extra offensive piece they need to turn their crucial season around in hopes of getting a higher seed in the conference and play in the post season. With the Bulls front office on the hot seat, it is as good a time as any to make trade offers and trade pitches to a team or multiple teams. It's time for the front office to focus more on what is happening to the team now than to wait for future draft picks that may or may not fall in their favor.