Monday night, the Indiana Pacers will conclude their quick three game road trip as they will be in Miami to face off with the Miami Heat. This will also be the Pacers second night of a back-to-back, fresh off playing the Orlando Magic last night. This is the Pacers and Heat fourth and final meeting this season, as the Pacers lead the season series 2-1, looking to make it 3-1 on Monday.
Look at The Last Matchup
The Pacers and Heat's last matchup got off to a weird start, as the game was delayed due to the American Airlines Arena having some lighting issues for a while. Once the game finally started, the Pacers came out ready to play. They led throughout most of the game, but their late game troubles continued to hurt them in that game. It ultimately came down to a controversial layup by Dwayne Wade which was all set up by a Chris Bosh screen. That screen turned out to be illegal, and the officials missed that. Therefore, it shouldn't have counted, and the Pacers would've got the win.
However, at the same time it shouldn't have had to come down to the crunch time for the Pacers. They had their chances to close out the Heat, but failed to do so. Paul George was magnificent for the Pacers in that game, as he led the Pacers with a game high 32 points, and had a chance at the game winning three pointer to get the Pacers out of Miami with a win, but it didn't go in.
Bosh was very good for the Heat in that game, as he led them with 31 points, and also pulled down 11 rebounds. Dwayne Wade was also very good for the Heat, as he contributed 27 points, and also had that game tying layup that sent the game into overtime, where the Heat were able to pull out the win.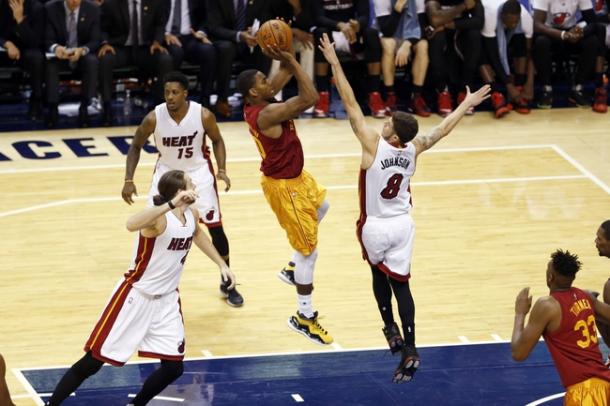 Different Looking Heat Team
When the Pacers face the Heat on Monday, the Heat will be without Chris Bosh in that game, as it is rumored he might be dealing with blood clots again. Last season, he dealt with those and it kept him sidelined for the rest of the season, which was a huge blow for the Heat. Dwayne Wade is also listed as questionable, and guard Tyler Johnson is out for the Heat as well.
Projected Starters:
Heat: PG: Goran Dragic, SG: Gerald Green, SF: Justise Winslow, PF: Luol Deng, C: Amar'e Stoudemire.
Pacers: PG: George Hill, SG: Monta Ellis, SF: Paul George, PF: Myles Turner, C: Ian Mahinmi.
Injuries:
Heat: Chris Bosh- out, Dwayne Wade- game time decision, Tyler Johnson- out
Pacers: Rodney Stuckey- out.