 LeBron James and Kyrie Irving scored 23 points apiece to lead the Cleveland Cavaliers past the Charlotte Hornets 114-103 on Wednesday.
The Cavaliers rebounded from a horrible 96-88 loss to the Detroit Pistons on Monday by using a 40-point second quarter to pounce the Hornets. The Cavs led by as much as 24 points in the second half, seemingly putting out their frustrations on Charlotte.
James, who scored 12 points against Detroit on 5 for 18 shooting and had six turnovers against Detroit, came out on fire against Charlotte, hitting 8 of his 13 shots. He also had seven rebounds and seven assists.
The Cavaliers snapped the Hornets five-game winning streak.
"We knew they would give us everything they had because they didn't live up to their standards in their last game here," said Hornets head coach Steve Clifford.
Charlotte defeated Cleveland 106-97 earlier this month, despite not having Kemba Walker and Al Jefferson due to injuries.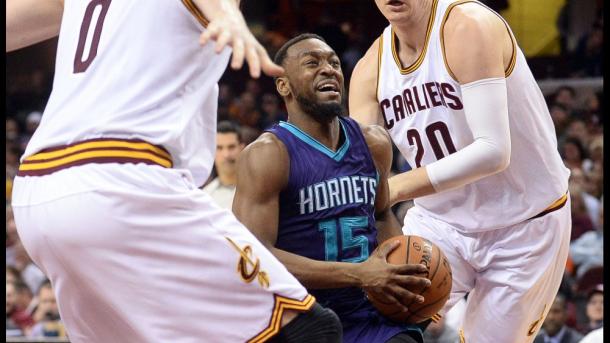 The Cavs made sure it didn't happen again.
The Cavaliers went out firing behind James and Irving, and got much needed help from JR Smith and newcomer Channing Frye, who scored 16 and 15 points respectively.
Walker led the Hornets with 20 points, while Frank Kaminsky added 16 and Jefferson had 12.
This could be a preview of the first round of the playoffs in the East, as the Cavs currently hold the top spot while the Hornets are currently at the eighth.
However, Hornets coach Steve Clifford knows that the Cavs and Hornets are taking different paths right now.
"If you're the Cavaliers, your goal coming into the season was to be the No. 1 seed because they have the best roster," he said. "For us, we wanted to make the playoffs. Our goals are A, to qualify for the playoffs; and B, be playing at a level to be a factor in the playoffs. There will be 2-3 teams in the conference that take off and play a lot better from here on out. We want to be one of them."
Facts of the Night
Cavs' Iman Shumpert (shoulder) and Hornets' Spencer Hawes (back) were out due to injuries.
LeBron James became the Cavs' third all-time leading rebounder following the win.
Newcomer Channing Frye hit four three pointers in the game. This is the reason why the Cavs traded for him last week. "I told him to shoot every time I throw it to him. I won't throw it to him unless I know he has the shot. He adds another dynamic piece to our team we hadn't had up to this point," said James of his teammate.
Mo Williams only played four minutes in this game. He is suffering from a swollen left knee.
Despite losing to the Cavs, the Hornets remain one of the teams in the East who are doing a great job in February, recording six wins and two losses this month.