In their second to last home game before a stretch on the road against the Chicago Bulls, the Atlanta Hawks were able to break their losing streak. After controlling the game from start to finish, a third straight blowout over the Bulls was no surprise.
The Hawks Are Back
The Hawks got off to a strong start, executing plays on offense and forcing the Bull's defense to make quick decisions. Hawks Paul Millsap, Jeff Teague, and Kent Bazemore all scored six points each in the first quarter, Al Horford scored four, and both Dennis Schroder and Mike Muscala had two. Atlanta took the lead 26-21 at the end of the first quarter, having shot just 39%, but benefiting from the majority of rebounds.
In the second quarter, it became apparent that the Hawks would have to increase the pace of the game if they wanted to maintain the lead over the Bulls. After their last game against the Golden State Warriors, the Hawks seemingly discovered a different level of competing, which they implemented in Friday night's game as well.
Throughout the second quarter, Atlanta brought pressure and played solidly at a fast pace, and forced a total of 11 turnovers and had only four themselves. At halftime, the Hawks remained ahead of the Bulls 51-44. Even though the Bulls had cut back the point deficit, the Hawks had created a safety net due to excellent play implementation early on. Despite shooting just 11 percent from three-point range, the Hawks enjoyed a seven-point lead at the half. It appeared as though Atlanta had achieved their goal of getting off to a faster start in this game than they had in their previous few games.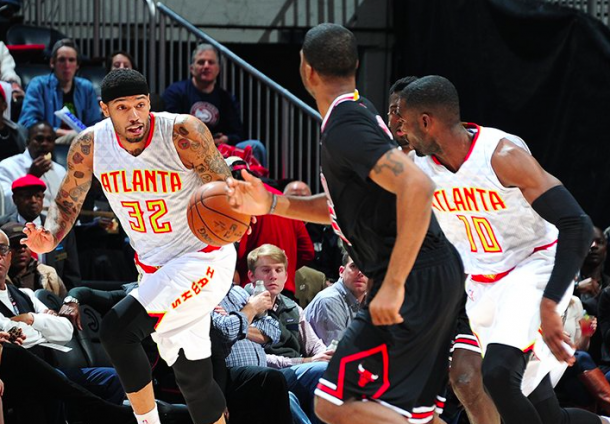 Hawks Stay On Top
The second half further demonstrated just how desperately the Hawks wanted this win. Just as they did in the first half, the Hawks continued to force turnovers and sustain their momentum. They maintained a twelve-point advantage over the Bulls as they entered into the fourth quarter 79-67.
The final quarter sealed the win for Atlanta as they persevered offensively, putting up numerous threes and never allowing Chicago the opportunity to turn the game around. Kirk Hinrich made his first appearance with the Hawks against his former team with less than three minutes left to play.
While Teague, with a total of 19 points and 9 assists, had put the Hawks in a position to win the game, it was ultimately plays by Horford in the fourth quarter that finished the job. Overall, Atlanta outscored Chicago, had fewer turnovers and scored more points off of turnovers. The Hawks finally found their win in the end, defeating the Bulls 103-88, and breaking their home losing streak.
Next up, the Atlanta Hawks take on the Charlotte Hornets at 3:30 PM EST on Sunday, Feb. 28 - their last home game before five on the road.