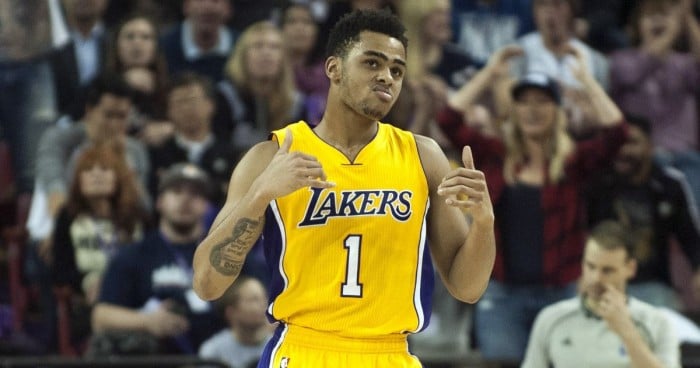 With the Los Angeles Lakers in the midst of an eight-game losing streak and Kobe Bryant sitting out a second consecutive game, the Lakers needed someone to step into a leadership role entering their matchup against the Brooklyn Nets on Tuesday night - and D'Angelo Russell did just that.
D'Angelo Russell's Night
Russell exploded for 39 points, six rebounds, and three assists to produce the highest scoring output by a Lakers' rookie since Elgin Baylor dropped a double-nickel (55 points) back in 1959. Russell converted on 14 of 21 shots, knocking down eight of an attempted 12 three-pointers as the Lakers defeated the Nets, 107-101.
That kind of efficiency might resemble a box score from reigning MVP Stephen Curry. For a 20-year-old rookie to put up those kinds of numbers, it's simply astounding.
Not only are the numbers staggering, but he produced them in a close battle and knocked down two clutch triples down the stretch of the ballgame - even signaling towards his shooting arm, declaring, "Ice in my veins!" for the Hollywood cameras to see.
Jordan Clarkson added a versatile performance containing 16 points, seven rebounds and seven assists; as did Julius Randle with 14 points and 13 rebounds - giving hope for this young Lakers' core.
But make no mistake about it: This was D'Angelo Russell's coming out party.
Despite ongoing criticism, the young Lakers' guard maintained his confidence throughout the season, seemingly envisioning a performance like this to propel him into upward momentum.
It's About Time
It's the kind of performance fans have been waiting for.
It's the kind of assurance they needed after seeing successful outputs from fellow rookies Karl-Anthony Towns, Jahlil Okafor, and Kristaps Porzingis - while Russell struggled at times partly due to the rigors of his position and a lack of opportunity down the stretch of ballgames.
It's the kind of breakout game Lakers fans, and even management, needed in order to give them hope that the Post-Kobe Bryant era may actually be something to be excited about.
While the face of the franchise sat on the sidelines in a black suit, he looked on at what could be the next player to continue the purple and gold legacy he's carried for 20 years.