 The Indiana Pacers were unable to beat the Charlotte Hornets yet again as the Hornets outlasted the Pacers by a final score of 108-101. The Hornets completed the 3 game series sweep of the Indiana Pacers, and increased their lead in the standings on the Pacers. The Pacers will look to bounce back Saturday night as they are in the nation's capital to face off with the Washington Wizards.
Hornets Too Much For The Pacers Yet Again
Kemba Walker and the Charlotte Hornets were just too much for the Pacers yet again. Walker finished the night with 33 points and 10 assists. Walker wasn't the only one who had a good night for Charlotte. Nicolas Batum went off to score a total of 31 points and also contributed 7 rebounds. Walker and Batum combined to score a total of 64 points for the Hornets which ultimately pushed them to the victory. Paul George was one of the only positives for the Indiana Pacers on the night. George scored a game high 35 points for the Pacers. However, no one was really able to help contribute with George, and it seemed like a one man show for the Pacers. George recently commented that the Pacers were ultimately lacking toughness. This is mainly on the defensive end. Overall he would just like to see a better effort on both sides of the court. One of the only other positives on the night for the Pacers was Ian Mahinmi who was huge on the rebounding side of the game as he grabbed 14 rebounds and also contributed 10 points.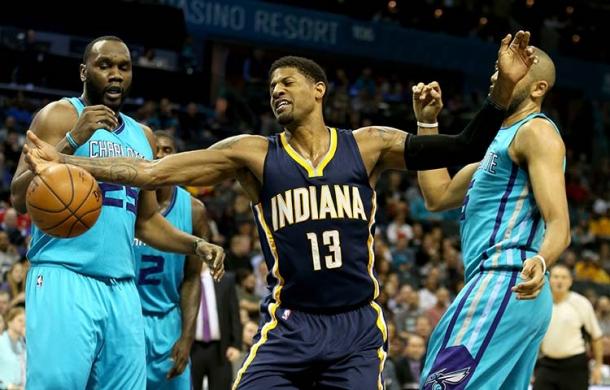 Hornets Win Hurts The Pacers In The Standings
With the Hornets 108-101 victory over the Pacers the Hornets were able to stay in fifth place in the Eastern Conference standings tied with the Atlanta Hawks for fourth in the East. The Pacers remain the sixth seed in the Eastern Conference. Going in to the game the Pacers trailed the Hornets by 0.5 games but after the Hornets win the Pacers are now 1.5 behind Charlotte.
Game Goes Downhill In the Fourth
The Charlotte Hornets outscored the Indiana Pacers 28-19 in the fourth quarter which ultimately helped push them to the win. The Pacers had the momentum after the third quarter after outscoring Charlotte 32-25 in the third quarter. However, they were not able to carry that momentum to the fourth quarter. Walker and the Hornets were just too much for the Pacers overall.
Pacers Move On To The Wizards
The Indiana Pacers will have a chance to bounce back Saturday night as they will be in Washington to wrap up their brief road trip against the Wizards. The Wizards are also on the second night of a back to back as they are coming off a loss last night to the Cleveland Cavaliers.