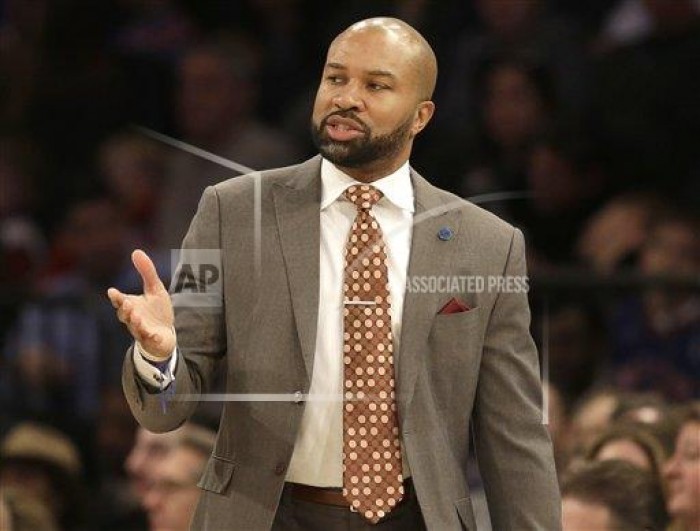 The Derek Fisher saga continues for at least one more chapter. Only now, the dramatically charged words written and spoken are not coming from the ever-speculative media, but the former Knicks head coach himself.
By now, the sequence of events beginning with Fisher's scuffle with former teammate and NBA bad boy Matt Barnes to Fisher's firing is common knowledge and to be frank, old news. The Knicks have moved on, though hopefully are not simply stuck in neutral, given their current state of affairs, and the fans will forever be unsatisfied until their team starts producing like a New York franchise should.
However, during his time off from coaching, it seems Fisher has been contemplating, writing, and plotting to drop a major bomb that may or may not have discredited the rumor-driven literature and discourse that have portrayed Fisher as a back-stabbing, bro-code violating snake, to understate his image.
The Tell-All Open Letter
In an open letter titled 'Truth' published in The Cauldron Thursday afternoon, Fisher expressed his disgust with particular unspecified members of the media for spreading what he refers to as false rumors regarding the reasoning behind his termination as Knicks' head coach (one has to imagine he wasn't very amused by Jalen Rose's Valentine's Day jab).
Bottom line, according to Fisher, is that the NBA is an intricate business in which coaches and members of management get fired for a multitude of reasons, which we can all fairly admit is true. Whether or not the Barnes incident affected the way the players responded to him, we'll never quite get the answer However, if we are being fair to Fisher, the Knicks season began to spiral out of control months after the incident even occurred. We seem to so quickly forget the Knicks' rather quick start to begin the season, and when things go wrong, we usually need a villain to blame.
Fisher was even more disappointed with the way said media members have treated Gloria Govan, Barnes' ex-wife and Fisher's current girlfriend, which is where the letter gets a bit more interesting. In defending Govan from being portrayed as a "piece of property, instead of the strong, independent woman and mother she is," Fisher explained the nature of his relationship with Govan, as well as the lack of one with Barnes. Though it may come to a surprise as many, according to Fisher, he and Barnes were not the "friends" they were made out to be, but rather two teammates with no real off-the-court interaction.
Too Little Too Late?
There's only one real problem with the letter. Nobody really cares. Does Derek Fisher have every right to give his version of the story? Of course. Was it noble of him to defend his girlfriend? Most definitely. At this point, it almost seems moot. Enough time has gone by that many people's interpretations of Fisher have already sunk in and laid their foundations. For Knicks fans, Fisher is simply another body to walk through the revolving door of coaches that have tried to turn the struggling franchise around. As for Fisher, in his own words, "Time will tell, but I'm ready to continue the journey, and I'm excited for what's to come.
Whether the letter was for the fans, his fellow NBA acquaintances, or himself, hopefully this is last of the Derek Fisher saga and he can move on to his next endeavor with integrity and resolve.