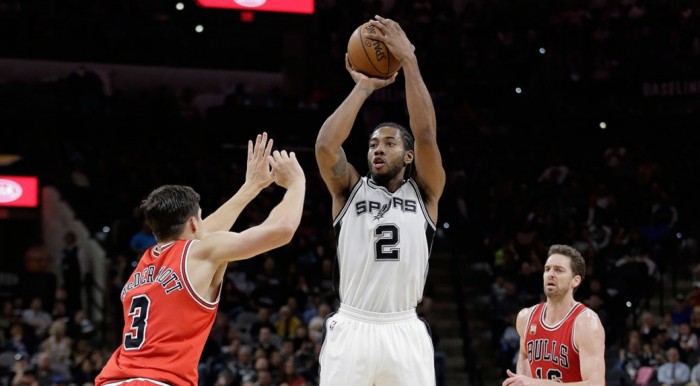 The Chicago Bulls had their hands full on Thursday night as they went up against one of the league's best the San Antonio Spurs, a game that aired nationwide on TNT. In a good quality game, the San Antonio Spurs finished on top 109-101 and improved their already dominant record to 55-10 on the season.
The Bulls without Jimmy Butler, Cameron Bairstow, and Joakim Noah all due to injury had a lot of shoes to fill as they took the floor. Even with the loss, the Bulls were actually able to play somewhat together and solid, giving themselves chances. E'Twuan Moore got the important start over the absent Butler and turned in a great performance of 20 points off of eight of 12 shooting from the field. He was one of three Bulls on the night to score 20 or more points including Pau Gasol and Derrick Rose. Rose has continued his consistent and solid run of play with 21 points and six assists. Although not shooting perfect from the field the main thing is that he has stayed aggressive and took his chances at the right moments. He also helped space the floor against a great defensive squad led by Spurs coach and mastermind Gregg Popovich. It was also good to see Bulls coach Fred Hoiberg getting his guys extra involved and engaged in the game. While upset with a call, Hoiberg received his first technical foul of the season, which showed he was sticking up for his players. Gasol also brought great presence with 21 points and 12 rebounds on the night.
The Spurs led the whole night, and as front runners they played great whenever the score dwindled. Three Spurs scored 20 or more points on the night. Kawhi Leonard had a big 29 points while LaMarcus Aldridge came up with a double-double of 26 points and 10 rebounds. As Tim Duncan ages, it is a great sign that Aldridge is right there to be the big man that Duncan had been for so many years. With Duncan is only averaging 8.5 points a game this season, he has been a great role player as he has taken more of a backbone role. Aldridge has proved to be a great addition with an average of 17.6 points per game and 8.5 rebounds a game. Veteran Tony Parker was also a vital part of the game with 20 points and 12 assists.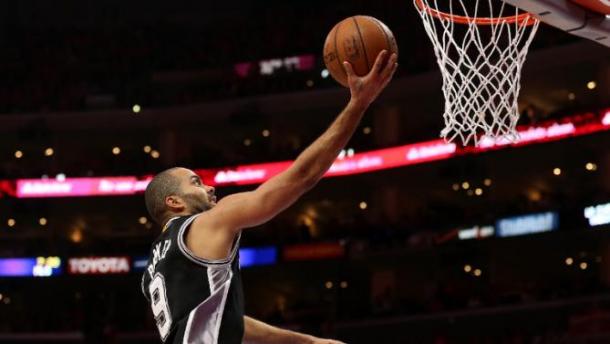 It marks their 40th straight home victory as a continuation from last year, an unprecedented number. They are doing things the franchise has not seen and it is remarkable. It goes to show the leadership from Popovich has been instrumental. With Butler out not much the Bulls could do against a team who is tremendous at home.
Thoughts From The Players
"It's a record season yes, but it doesn't mean anything if we don't go all the way," Parker said.
"In the first half I was more looking to pass," Parker said. "In the second half (San Antonio coach Gregg Popovich) told me to be more aggressive because they were going on little pick and rolls. So, I started with three or four jump shots, just trying to be aggressive."
"I wouldn't say one play (away), a couple of plays away," Derrick Rose said. "On the defensive side we've got plays where we let them get all the way to the lane.
"We got plays where we didn't box out and they pitched it back up for open shots. Just communicating. Communication has been key the entire year and that's something we didn't go out there and do tonight."
Spurs Get Edge In First Half
Good play got the game underway as the Spurs came out well on their home floor. The Spurs got up 15-11 early on in the first quarter. At 6:58 of play, something special happened - Tim Duncan grabbed his 15,000th rebound of his illustrious career.
A Rose to Moore connection for three helped the Bulls get back to 18-21 early on. Moore was doing a good job covering for the absence of Butler. Patty Mills registered a moment of magic as he dished a smooth pass to Leonard for the mid range shot to get the Spurs up 27-22. Leonard started out great with a five of five shooting performance from the field.
In the second quarter at 6:27 of play a play used often in the Spurs dynasty days was shown off as Parker fed Duncan for a big dunk while drawing the foul. Duncan made the free throw to complete the three point play as the Spurs steadied the ship for a 46-38 lead. Rose was a great help to keep the contest competitive as he showed off his driving ability for the basket to get it to to 42-48. The Bulls then showed teamwork with a Mike Dunleavy assist for a Moore three to get the game within three points. The Spurs went in to the half up by seven points.
Bulls Are Competitive, Spurs Even Better
The second half got off in the Spurs favor as they took a quick double digit lead. A Parker jumper off of pick for the basket to go up 60-48. Parker did a good job keeping Rose or whoever guarded him off balance as he weaved around effective screens. Chicago then made a run with some moments of inspiration. Rose displayed one of his best jumpers of the night while being contested to get it to 57-64. The Bulls then swung the play not much later with Dunleavy delivering a pass to Moore for another three as the Bulls got within four points. On transition Rose cranked in a pass to more for another three to get the Bulls within one, 65-66. It was very much competitive and quite impressive from the Bulls as they were soldiering on without Butler.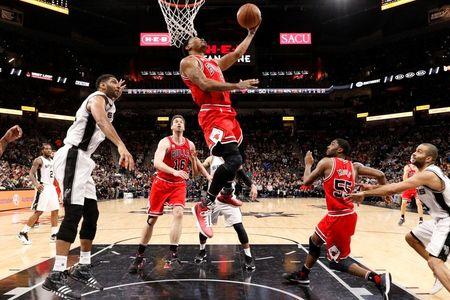 Leonard was the key for the game as he hit a three from the top of the arch for 73-65. Kyle Anderson then helped pitch in with a feed to Aldridge for a monstrous dunk with eight seconds remaining in the third quarter.
The Bulls made things interesting late as Rose passed to Justin Holiday for three of his 12 points on the night getting the team to 87-90 with 8:37 left in the game. Leonard then came up big again with a pump fake from outside to maneuver himself in the paint for a layup to get to 96-90. Then Danny Green came up with a huge put back dunk to cap off the Spurs great run for 102-92 with 4:11 remaining. The Spurs managed to do just enough to get the win with a 109-101 finish. A good performance from both teams.
UP NEXT
Bulls: Host Miami on Friday.
Spurs: Host Oklahoma City on Saturday.