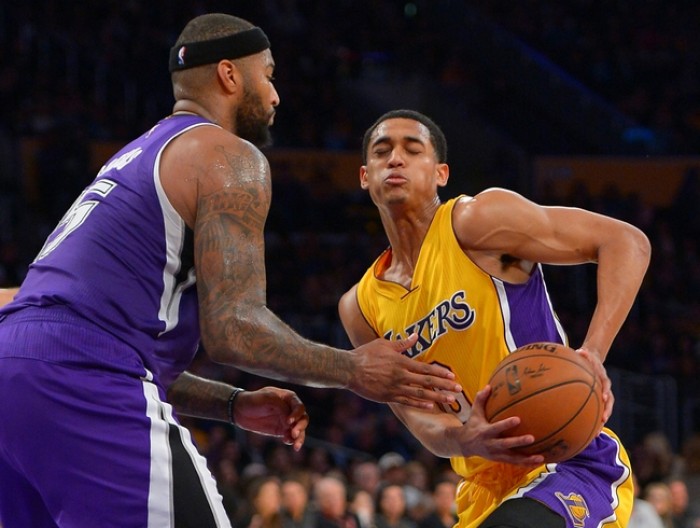 DeMarcus Cousins is widely considered to be one of the top-two best big men in the league. He's certainly had some controversy throughout his career with the Sacramento Kings, but nobody debates the kind of talent he possesses.
Following a 106-98 victory over the Los Angeles Lakers, Cousins was asked to comment on the young Lakers' core of Jordan Clarkson, D'Angelo Russell, and Julius Randle.
Here's what he had to say, via Serena Winters of LakersNation.com:
The whole young (Lakers) core is very talented. D'Angelo is coming along, Jordan is coming along. It's just about time.

It's a matter of time before it's clicking for all three of those guys (DA, JC, Randle). They're going to be a problem.
Following the All-Star break, the young trio has appeared to click on a different level, even putting their fingerprints on handing the Golden State Warriors just their sixth loss of the season.
The Young Guns
Post All-Star break, here are a few per-game numbers from the young core:
Jordan Clarkson: 16.5 points, 3.9 rebounds, 2.7 assists
D'Angelo Russell: 18.2 points, 4.3 assists, 2.9 rebounds
Julius Randle: 14.2 points, 10.6 rebounds
All three players are averaging just around 30 minutes per game since the break.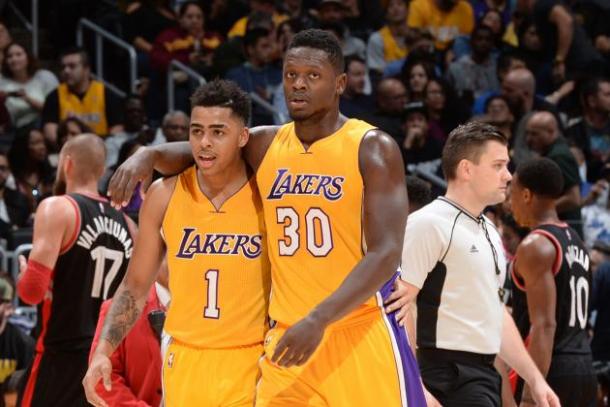 Larry Nance Jr. has also showed a great deal of promise in his rookie season for the Lakers, often times being the most fundamentally sound prospect as a result of spending four years at the University of Wyoming before entering the NBA.
His numbers may not reflect it (5.6 points and 5.0 rebounds on the season), but Nance has been an impactful spark off the bench.
Other star players have complimented the Lakers' youth -- sometimes individually and sometimes as a whole. So for a player at the top of his game such as DeMarcus Cousins to add to the praise, it's only a good sign for Lakers fans.
The upcoming off-season is going to be big for the future of the Lakers, and the front office plans on landing a significant free agent this summer.
Everyone senses that many free agents are paying attention to a lot of things with these Lakers such as the coaching decision (or non-decision) and/or the front office/ownership dynamic of Jim Buss, Mitch Kupchak, and Jeanie Buss. But perhaps most importantly how the young Lakers' core is going to develop and mesh together going forward.
Certainly, it's still too early to tell how great this nucleus will be, but all signs are pointing in a positive direction. The trio seems to get along well on and off the court, and is finally developing chemistry that's actually translating into meaningful victories. One more endorsement from a star player on how they're developing is certainly a welcome one.